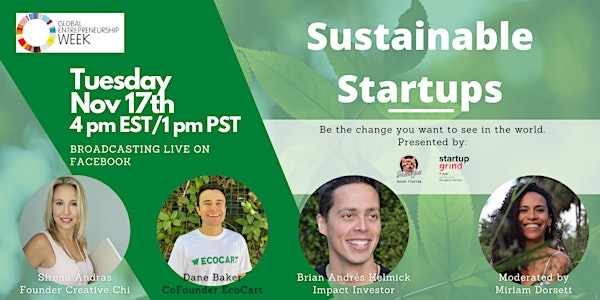 Sustainable Startups
Sustainable Startups features founders and industry experts that are building their brands in a conscious way. Learn from their experience.
Refund Policy
Contact the organizer to request a refund.
Eventbrite's fee is nonrefundable.
About this event
Now is the time for Sustainable Startups to shine. Decades of non-intentional entrepreneurial practices have gotten us to a place where the Climate Crisis is looming over the future of human life on Earth.
Change is here and it is profitable! Investor groups and funds solely dedicated to "social impact" and "conscious entrepreneurs" are sprouting up everywhere.
In this event, we will hear from some of the founders who have found their niche in the industry.
Broadcasting live on the Product Hunt South Florida Facebook page November 17th 2020 at 4 pm EST 1 pm PST
This event is in partnership with the South Florida Startup Grind Community as part of programming for the Global Entrepreneurship Networks Global Entrepreneurship Weeks programming.
About Brian
Brian Andrés Helmick is a Angel Investor and consultant specializing in Impact Investing. He focuses on financial inclusion/fintech, edtech, food/sustainable agriculture, and energy/climate change. Previous investments include Rebellyous Foods a plant-based chicken alternative, and Shyft Power an energy management platform to integrate solar and storage systems. A believer in work-life balance, he was the co-founder and CEO of The San Francisco Deltas Professional men's soccer team and spent a year on a spiritual sabbatical in 2019. He holds a B.S. and Master in Accounting from the University of Florida, an MBA in Entrepreneurship/Entrepreneurial Studies from Stanford University Graduate School of Business, and is currently completing the Impact Investing Programme at the University of Oxford.
About Sirena
Sirena is a Madrid-born, bi-cultural world adventurer and Tai Chi instructor thriving on creativity, compassion, and connection.
Home-based in the sands of Miami Beach for the past 20 years designing everything from magazines to handbags. She has Art Directed and Brand developed for top-notch clients, including Bacardi, Norweigan Cruise Line & The Center for Social Change.
She is the founder of Creative Chi Branding Agency. A certified B- Corporation. They specialize in mindful branding for conscious businesses and products. Their passion is developing brands for companies that understand they are more than just business. Companies that are shaping the world of the people who come in contact with them, internally and externally: coworkers, clients, consumers, and beneficiaries. Their goal is to assist in creating brand foundations to inspire and insist on positive changes in our world.
Sirena is on a mission to make a positive shift in the world - one conscious brand at a time. As a certified B-Corporation professional and devotee, she believes that corporate responsibility can change the world.
About Dane
Dane Baker is the Founder & CEO of EcoCart, which makes fighting climate change simple, cost-effective, and accessible for everyone. EcoCart has two products: a Shopify app that merchants can install into their online stores to give their customers the opportunity to make their orders carbon neutral, and a Chrome extension that calculates and offsets the carbon footprint of their orders at no cost to them. Previously, Dane has set out to make the world a better place through entrepreneurial ventures such as limiting materialistic consumption and waste with a peer-to-peer rental marketplace and providing gig-economy workers the wages and benefits they deserve with a first-of-its-kind gig economy employment platform.
His team's recent launch on Product Hunt gained 54 reviews and over 400 upvotes from the community.
About Miriam
Miriam Dorsett is a serial entrepreneur, a full-time artist, entrepreneur, and community activator. Her passions are the arts, our community, technology and sustainability. In 2016 she founded the connection company Chibur. In 2018 they launched their first product IA. IA is a digital platform providing writers with an easy to use system to monetize their content. She also is the founder and CEO of the event and venue space Zen Zone Miami which is located in the heart of Miami Florida. In addition to growing her startup, she is an Editor at Tropicult Magazine, and the founder of Bootstrap Publications.
Her passion for the community keeps her busy. She is the Meetup Host for Product Product South Florida, on the organizing committee for 1 Million Cups Miami, the Ambassador of Creative Industries for Venture Cafe Miami and the Miami Community Manager for Entre. She has more than 15 years of professional experience ranging in the fields of youth development, small business management, and digital engagement. Her second book The Lion and The Elephant has been well received by readers and she is currently working on her book titled From Where I Stand which will outline her views as she prepares her campaign for political office.
Supported by:
Startup Grind Ft. Lauderdale hosts monthly startup events to teach, inspire, and connect entrepreneurs
The cornerstone of our community is monthly events featuring successful local founders, innovators, educators and investors who share lessons learned on the road to building great companies.