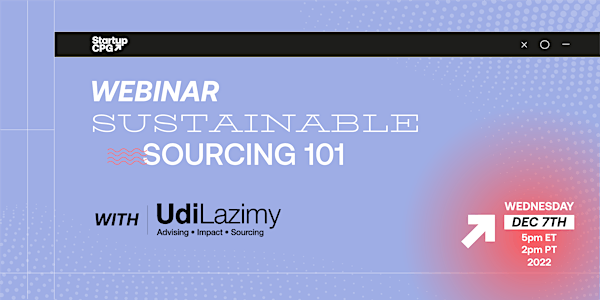 Sustainable Sourcing 101
Udi Lazimy Consults chats with Startup CPG about sourcing food sustainably.
About this event
How should plant-based food companies approach sourcing strategy while keeping sustainability, equity and regenerative principles in mind? What are some of the main challenges facing plant-based food companies and how can sourcing and impact assessment address these challenges?
Session Description: Join Udi Lazimy, Principal and Founder of Udi Lazimy Consulting LLC., and former Global Head of Sourcing and Sustainability for Eat Just, as he describes approaches to sustainable sourcing strategy and LCA ("Life Cycle Assessment") for innovative, sustainability-minded food brands. We'll have a conversation about:
How to think not only about what your product is replacing, but what's actually IN your product and its impact.
Basic best practices for sourcing from both smallholder farming communities in developing countries as well as domestically
The basics of impact assessment.
The intention is for participants of this webinar to gain a holistic view of sourcing and impact assessment, and have a space for Q&A and robust conversation.
About Udi Lazimy Consulting, LLC: As an advisor to the plant-based, clean meat and sustainable food industry, Udi Lazimy (Principal, Udi Lazimy Consulting, LLC) guides companies directly towards tangible success in their responsible sourcing, business development and sustainability programs. Having built from scratch the sustainability & sourcing programs at Eat Just Inc., one of the world's leading food technology companies, & advised both startups & established food companies on product development, sourcing, impact strategy & assessment, Udi's 20+ years of experience is unmatched in the industry.
Learn more about Udi and contact him to supercharge your brand's sourcing, impact and biz dev strategy here: www.udilazimy.com
About Startup CPG
Startup CPG is the national network for emerging brands working toward a better food system. If you're not already in our Slack channel, you're missing out on meeting eight thousand new friends! Join today!