Sustainable Seafood Week Seattle Industry Lab - Application

Wednesday, August 5, 2015 from 8:30 AM to 5:00 PM (PDT)
Event Details
Are you interested in attending Industry Lab Seattle? If you're in the seafood industry, food business, ocean conservation, civic health or another relevant area, we'd love to hear from you. Register here and we'll get back to you quickly to let you know if there's space for you to attend. 
As part of Sustainable Seafood Week Seattle, this invite-only one-day session will address topics in sustainable seafood that are critical for industry professionals. Whether you're an industry leader or looking for an overview of sustainable seafood issues, these interactive sessions will provide knowledge that can be applied right away.
Experts and practitioners will provide insights and first-person accounts. Structured discussion and participatory elements allow attendees to share knowledge and connections. Previous Sustainable Seafood Week industry gatherings included social entrepreneurs, forward-thinking companies, nonprofits, fisheries managers and representatives from small-scale fisheries.
Join us for fresh conversations that inform, provoke, and impart knowledge needed to stand out in a crowded global marketplace.
Industry Lab is sponsored by Whole Foods Market.
Schedule
8:30 – 9:30 am: Registration and Breakfast
9:30 – 9:45 am: Opening Remarks and Introduction to Traceability
9:45:00 – 10:45 am: Panel 1 Traceability: The Ecosystem Approach
Consumers and retailers are demanding increased transparency and traceability in global supply chains. That pressure is especially focused toward the historically opaque seafood industry, due to recent exposés revealing persistent fraud, human rights violations, and illegal activity. As a result, seafood industry businesses are facing demands for traceability and transparency information from multiple sides – retailers and consumers, resource regulators, and the conservation and public health sectors.
This panel will explore the collaborative ecosystem that is developing to support robust and verifiable end-to-end solutions for myriad traceability challenges worldwide. We'll also discuss the technologies and innovations that can help all businesses in the sector track fish on its journey from ocean to plate.
 10:45 – 11:00 am: Break
11:00 – 12:15: Hosted round-table conversations  
12:15 – 1:15 pm: Lunch: Crafted by Ray's culinary team
1:15 – 1:45 pm: Micro Keynotes
Smart Catch- An interview with Dune Ives, Senior Director of Philanthropic Initiatives at Vulcan Inc.
1:45 – 2:45 pm: Panel 2 Supplying Demand: The Challenges of Sourcing and Serving Sustainable Seafood
Chefs are an underutilized resource in the fight to increase seafood sustainability. The majority of the fish eaten in the US is consumed in restaurants, and chefs are uniting these conversations around the dinner table in today's food-crazy culture. In this panel, we talk to chefs and supply chain players who are escalating on-the-ground change through new programs like Seattle's Smart Catch. How are these forward-thinking players using their platforms as a way to introduce consumers to diverse, sustainable seafood? How might they work together to drive demand for more responsibly sourced fish?
2:45 – 3:00 pm: Break
3:00 – 4:00 pm: Panel 3 Buildings and Food: Collaborating for Healthy Cities and Thriving Waterways
As a coastal city, Seattle and its waterways are profoundly connected. Urban development and industry impact the quality of local oceans and rivers. In turn, the health of our waterways is essential to supporting the coastal industries and seafood populations that feed us. This panel brings together producers, non-profits, and industry leaders for a conversation about supporting local aquaculture, protecting habitat for wild fish, and working with city officials and developers to conserve the vital ecosystem that supports us all.
Check back soon for panelist lineup.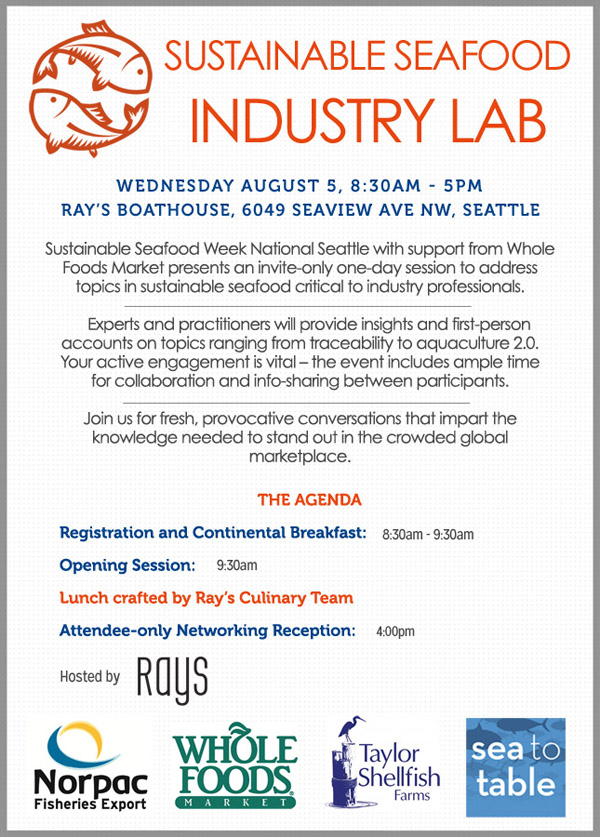 When & Where

Ray's Boathouse
6049 Seaview Avenue Northwest
Seattle, WA 98107


Wednesday, August 5, 2015 from 8:30 AM to 5:00 PM (PDT)
Add to my calendar
Organizer
Sustainable Seafood Week invites you to explore the stories behind the fish. Discover legal, traceable, renewable, and trustworthy seafood.
We bring chefs, fishermen, industry professionals, and locals together in cities across America. Each Sustainable Seafood Week features a kick-off gala, dine out program, industry gatherings, and local flavor events.
The program is produced by Flip Labs, Future of Fish, and Village Fishmonger.