Description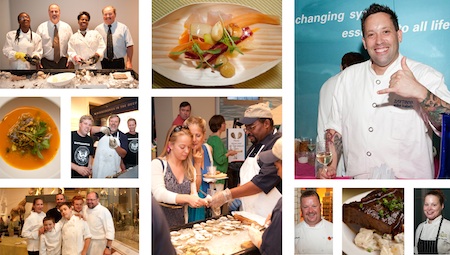 Sustainable Seafood: Ensuring a Healthy Supply
Thursday evening, June 7, 2012 at 7:00 p.m.
National Museum of Natural History
10th Street and Constitution Avenue, N.W.
The National Museum of Natural History is a part of the Smithonian Institution, the world's preeminent museum and research complex. The Museum is dedicated to inspiring curiosity, discovery, and learning about the natural world through its unparalleled research, collections, exhibitions, and education outreach programs.
The Museum's Ocean Initiative represents one of our most dynamic and engaging programs and has spread messages of ocean science, awareness, and stewardship to millions of visitors and will continue to do so for years to come. Over the past three years, the National Museum of Natural History (NMNH) has staged successful discussions about the health of our ocean and the vital role it plays in the well being of our planet complemented by receptions drawing sell-out crowds.
The event begins with a reception in the Sant Ocean Hall, featuring a specialty cocktail created just for the event, the Longshore, prepared by Libations Bar School; wine, and sustainable seafood hors d'oeuvres prepared by several of Washington's most noteworthy chefs: Victor Albisu; Jeff and Barbara Black of Black Restaurant Group; Ris Lacoste of RIS; Jamie Leeds and Nicolas Flores of Hank's Oyster Bar; Shannon Overmiller of the Majestic; Mike Isabella of Graffiato and Bandolero; Susan Soorenko, Moorenko's Ice Cream Cafe; and sushi from Wegmans. This will be followed by a seated dinner in our illustrious Rotunda featuring recipes from Chef Richard Hetzler of the Mitsitam Native Foods Café and Chef Scott Drewno from The Source by Wolfgang Puck. The courses will be matched with appropriate wines. Steven Phillips, CEO and President of Phillips Seafood Restaurants, will join us as the keynote speaker at dinner.
Consumers, chefs, vendors, restaurateurs, and wholesalers all want a safe seafood supply. How do we know if the seafood we buy is safe to eat? How is it tested? How can my choices ensure there is a sustainable supply of healthy seafood in the future? During the reception, seven educational stations in the Sant Ocean Hall will present information, answers, demonstrations, and tastings.
This special evening is made possible through the generous contributions of National Oceanic and Atmospheric Administration, National Marine Fisheries Service; Wegmans Food Markets; National Marine Sanctuary Foundation. JENN-AIR; and Libations Bar School.