Description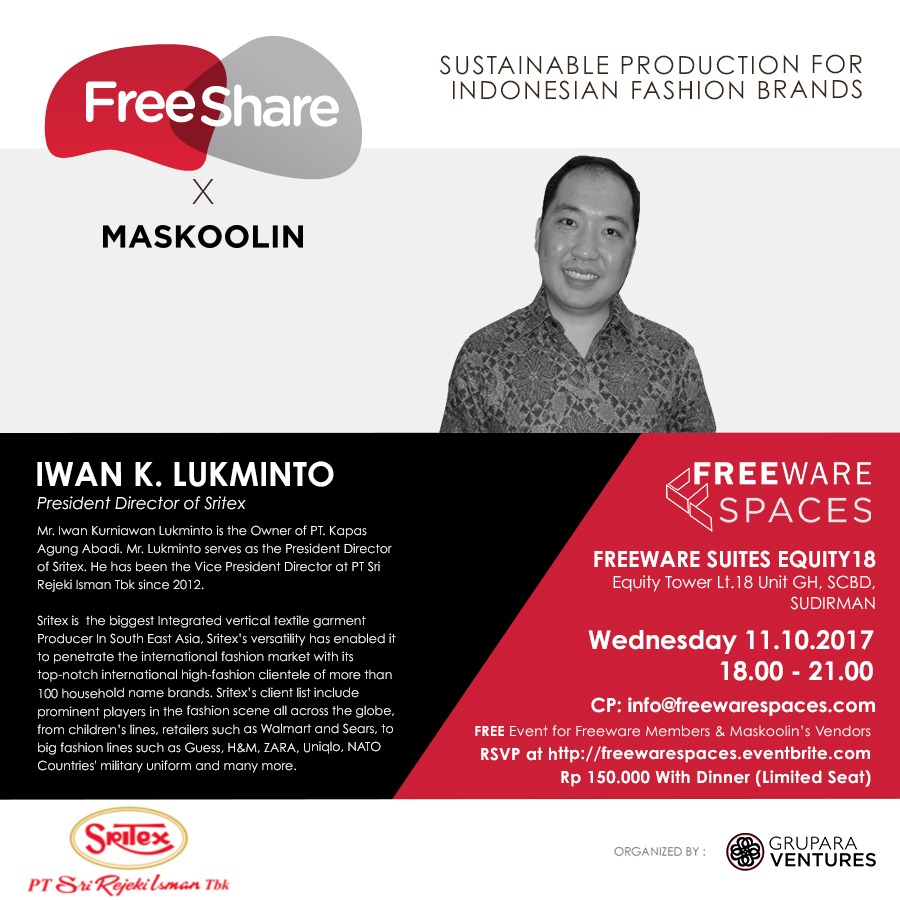 GRUPARA VENTURES x MASKOOLIN.com Presents:
"Sustainable Production for Indonesian Fashion Brands"
at Freeware Suites Equity 18
with
IWAN K. LUKMINTO (President Director of SRITEX / PT Sri Rejeki Isman TbK)
Date / Time : Wednesday, October 11th, 2017, 18.00 - 21.15
Location: FREEWARE SUITES EQUITY 18 / FREEWARE SPACES EQUITY
Jl Jend Sudirman, Kave 52-53, Equity Tower, 18th Floor
Jakarta Selatan 12190
18.00 - 19.00 : Registration, Networking, and Dinner
19.00 - 21.00 : Main Event
Mr. Iwan Kurniawan Lukminto is the Owner of PT. Kapas Agung Abadi. Mr. Lukminto serves as the President Director of Sritex. He has been the Vice President Director at PT Sri Rejeki Isman Tbk since 2012.
Sritex is the biggest integrated vertical textile garment producer in South East Asia. Sritex's versatility has enabled to penetrate the international fashion market with its top-notch international high-fashion clientele of more than 100 household name brands. Sritex's client list include prominent players in the fashion scene all across the globe, from children's lines, retailers sich as Walmart and Sears, to big fashion lines such as Guess, H&M, Zara, Uniqlo, NATO countries millitary uniform, and many more.
FOR BANK TRANSFERS PLEASE WIRE TO 701866509 (PT Freeware Grupara Internasional, Bank Permata) and email to finance@freewarespaces.com