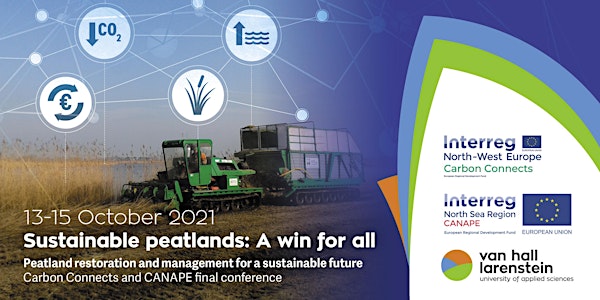 Sustainable Peatlands: A Win for All
Peatland restoration and management in Europe for a sustainable future - HYBRID EVENT
When and where
Location
Agora 1 1 Agora 8934 CJ Leeuwarden Netherlands
About this event
*** COVID-19 UPDATE ***
As of 25 September, we no longer have to stay 1.5 meters from others and a coronavirus entry pass system will apply. It means all events will again be allowed. You can get a coronavirus entry pass if you are fully vaccinated, have valid proof of recovery or a negative result from a coronavirus test taken less than 24 hours before entry.
https://www.government.nl/latest/news/2021/09/14/netherlands-to-reopen-further-with-coronavirus-entry-passes
You can sign in to join physically until the 1st of October. We are looking forward to see you soon. In case of any questions on your registration please contact: CANAPE@Broads-Authority.gov.uk
---
The EU projects CARBON CONNECTS and CANAPE share the commitment to sustainably re-wetting and restoring peatlands.
This 3-day conference brings together European experts, managers, policy makers and stakeholders to discuss their visions on restoring and protecting peatlands. The event focuses on innovative techniques, business models and policy options developed over 4 years of work by the projects CANAPE and CARBON CONNECTS.
We are looking forward to welcoming you remotely online or on site at Van Hall Larenstein University of Applied Sciences in Leeuwarden. You can choose the most convenient option.
PEATLANDS IN TROUBLE
Peatlands are one of our most valuable ecosystems, however, they are under intense threat. Globally, 25% of peatlands have been destroyed, and in Europe peatlands have been assessed as the most degraded ecosystem (European Commission). Damaged peatlands are a major source of greenhouse gas emissions, responsible for 5.6% of global human-caused CO2 annually, more than aviation and shipping combined. Peatland loss also means biodiversity loss, more floods and droughts, and degraded drinking water for local communities.
When a peatland is drained or stripped of its peat-forming vegetation it becomes an inactive bog, emitting rather than storing or sequestering significant amounts of CO2. Damage is often caused when bogs are drained for agriculture and tree planting. Atmospheric pollution, including from sulphur and nitrogen, peat extraction for fuel, horticulture, and development, fires, and overgrazing, are all also responsible for peatland degradation.
Peatland restoration and protection is thus paramount for global attempts to combat climate change. Therefore, it is crucial to develop and support sustainable ways to manage peatlands that can both preserve their maintenance and functionality and provide a viable future for landowners and farmers.