Description
Orange County is working on a community sustainability plan called Sustainable Orange County – Our Home for Life. This plan focuses on economic, environmental, societal, and cultural factors that will enhance our quality of life. As part of this effort, we are holding two community workshops to talk about what we've been working on and – more importantly – to get your input as to what can be done to ensure that Orange County will be an even better place for our current residents and visitors and sustainable for generations to come. Please come to participate in one of these workshops to share your ideas about how to create a more prosperous, healthy, livable, and connected community.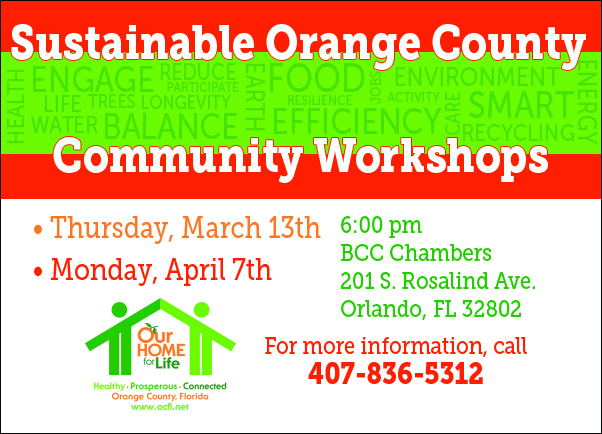 An innovative workshop format has been designed to provide everyone the opportunity to participate in creating a sustainable Orange County.
Even if you cannot attend one of the workshops, you may provide your input on our PlaceSpeak page: www.placespeak.com/ochomeforlife
You may also learn more about our sustainability planning efforts on our website: www.ochomeforlife.net
Special accomodations for the hearing impaired are available upon request. Please indicate as soon as possible by sending an email to orangetogreen@ocfl.net if you will need that assistance.
PLEASE NOTE: Seating in the Board of County Commissioners Chamber is limited to 108 people, and the first 108 people to arrive will be able to participate in the key pad polling portion of the workshop. Overflow seating for up to 40 attendees will be available adjacent to the chambers for watching the presentations via video monitors.