Sustainable Light-at-Night Seminar Series
Transdisciplinary perspectives on artificial-lights-at-night and achieving sustainable night skies
About this event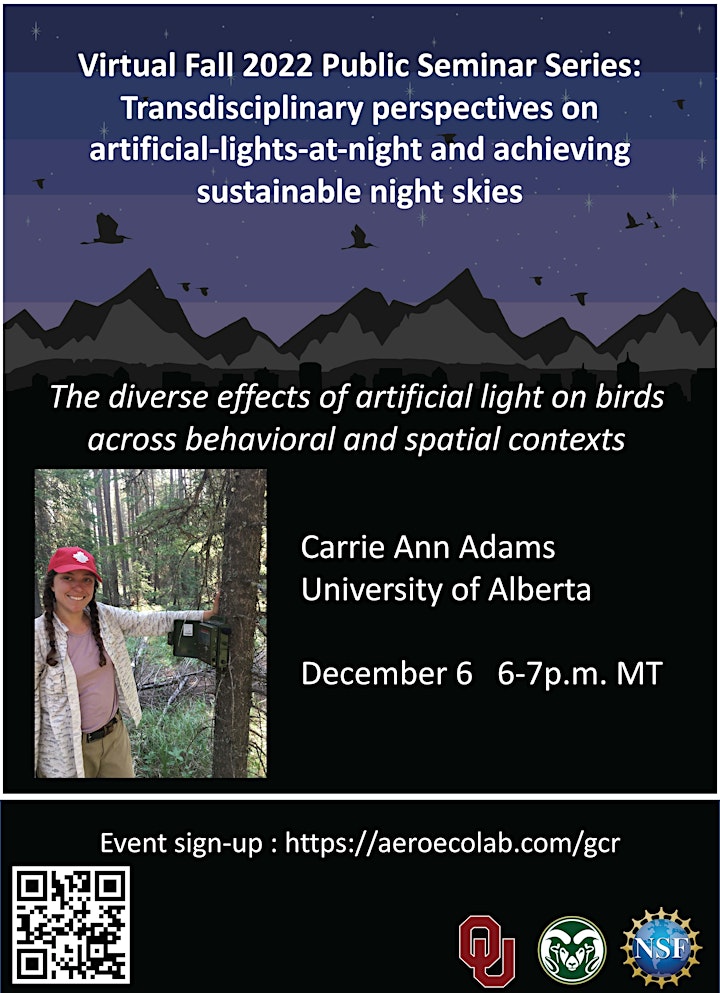 Series Overview: Artificial-lights-at-night (ALAN) is increasingly rapidly worldwide and has negative impacts on ecosystems and human health. However, ALAN is also important to the economic life of cities and people's perception of safety at night. This series will explore multiple perspectives on ALAN and search for ways to achieve sustainable nighttime skies.
Next Seminar
6 December - Carrie Ann Adams - University of Alberta
Title: The diverse effects of artificial light on birds across behavioral and spatial contexts.
Summary: Diverse bird responses across many taxa suggest high costs but some benefits of artificial light. Carrie Ann Adams of the University of Alberta will discuss how artificial light can contribute to bird collisions and mortality by attracting or disorienting them, deter birds from zones of human-wildlife conflict, and affect their habitat selection when not in flight. Artificial light is thought to benefit birds that eat flying insects by attracting their insect prey, yet habitat use patterns in nightjars in western Canada show that this foraging behavior only benefits some species in particular contexts, and likely harms them when nesting. On the whole, reducing light pollution is likely to benefit nightjars and other bird species.
Past Seminars
13th of September - Dr. Kyle Horton - Colorado State University - Birds on the move:tracking nocturnal migration through brighter skies using radar remote sensing
27 September - Dr. Travis Longcore - UCLA Institute of the Environment and Sustainability
Title: Practical Strategies to Reduce Adverse Effects of Artificial Light at Night
Summary: Even as we continue to learn the extent and importance of the adverse effects of artificial light at night on other species and our own, we need practical guidance to reduce those impacts now. Dr. Longcore will report on both basic research and applied projects with lighting professionals and urban planners that demonstrate viable approaches to light pollution mitigation that can be implemented immediately.
11 October - Jeremy White - National Park Service, Natural Sounds and Night Skies Division
Title: A Shared Heritage: Preserving Night Skies in our National Parks and Beyond
Summary:Across our National Parks, starry night skies serve as more than just a scenic backdrop. Natural night skies are an integral part of our shared natural, cultural and historic park resources. Jeremy White of the NPS Natural Sounds and Night Skies Division will discuss the efforts of the Natural Park Service to preserve and restore night sky resources in our parks and beyond.
25 October - Julia Wang - Cornell Lab of Ornithology
Title: Lights Out Texas: overview of a state-wide campaign to protect nocturnally migrating birds from light pollution
Summary: Every spring and fall, billions of birds migrate through the US, mostly under the cover of darkness. This mass movement of birds must contend with a dramatically increasing but still largely under-recognized threat: light pollution. Julia Wang of the Cornell Lab of Ornithology will discuss efforts to implement practical conservation action through the case of Lights Out Texas, a state-wide effort to protect birds from the adverse effects of artificial light at night.
8 November - Dr. P. Morgan Pattison — Solid State Lighting Services
Title: Night Sky Spectral Measurements and What They Tell Us
Summary: We have made baseline measurements of absolute, spectrally resolved night sky radiance. This data provides a baseline of the nightime lightscape at a given location and can be used to determine the contributing lighting technologies to light at night, so that changes can be seen with subsequent measurements. The data can also be analyzed for atmospheric spectral scattering effects.
22 November - Dr. Maggie Leon-Corwin - University of Oklahoma
Title: Pathways toward Sustainable Night Skies: An Overview of Public Perspectives on Artificial-Lights-At-Night
Summary:In this seminar, Dr. Leon-Corwin will provide a summary of preliminary findings from a nation-wide, representative survey that seeks to understand public views on the impact of artificial-lights-at-night on society and the environment. Public perceptions of pathways toward sustainable night skies and light pollution reduction techniques will be emphasized.