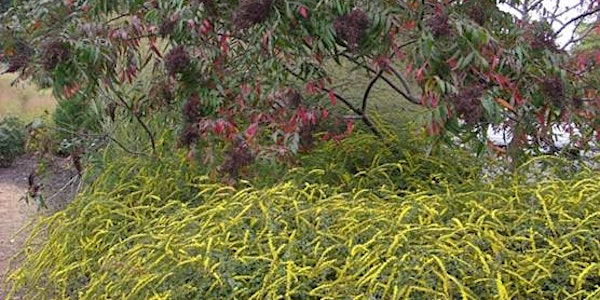 Sustainable Landscaping on the Eastern Shore
Location
Eastern Shore Higher Education Center | Located on the Chesapeake College Wye Mills campus
1000 College Cir Drive
Wye Mills, MD 21679
Description
Location Information
Eastern Shore Higher Education Center Auditorium
Located next to the wind turbine on the Chesapeake College Wye Mills campus
Free parking in Lot D | View campus map
Schedule
Presentations
9:00-9:30 | Arrive and enjoy light refreshments | Book sales and signings will be available at this time
9:30-10:45 | Building Diversity in the Garden
10:45-11:00 | Break
11:00-12:15 | Plant More than just a Pretty Face: Native Alternatives to Invasive Ornamental Plants
12:15-1:00 | Lunch on your own | Book sales and signings will be available at this time
1:00-2:15 | Designing with Native Plants

Optional Field Walk | Limited to 30 people
2:15-2:45 | Travel to field walk location (15 minute drive)
2:45-3:45 | Field walk at Jelich property
3:45-4:00 | Time for questions and discussion
Presentation Descriptions
Building Diversity in the Garden | Barbara W. Ellis
One of the key principles in creating a Bay-Friendly garden is to increase the variety of plants in our gardens. Join Barbara W. Ellis, author of Chesapeake Gardening & Landscaping, to learn not only about the value of diversity in the garden, but also the fun of cramming as many plants as possible into every corner of your yard. Ellis will also discuss a range of options—from simple steps to ambitious projects—that gardeners and homeowners can take to create beautiful, more sustainable gardens and landscapes that are attractive and healthy for humans, wildlife, pets, and the environment as a whole—including the Chesapeake Bay and all its tributaries.
Plant More than just a Pretty Face: Native Alternatives to Invasive Ornamental Plants | Sylvan Kaufman
Gardeners often unknowingly harbor some serious invasive plants in their backyards, or maybe they know but aren't sure what to replace them with. In this lecture participants learn about how using native plants to replace invasive plants can offer various benefits -- from attracting more butterflies and birds, to reducing the spread of plant invaders in their neighborhood. Participants will learn how gardens can reflect their native landscapes, as well as be ornamental.
Designing with Native Plants | Christina Pax
There is a secret to really good landscape design, and it starts with knowing what your goals are. In her role
as Lead Designer at the Native Landscape Design Center at Adkins Arboretum, Chris has worked with
numerous homeowners to co-design beautiful, intriguing solutions to landscape problems. She will
share various examples from these co-design projects about how to use natives for screening and create interesting focal points for pollinator gardens, rainwater control, and reducing maintenance over time. Come and be inspired!
Presenter Biographies
Read Barbara Ellis' biography on her blog EasternShoreGardener.com

Read Sylvan Kaufman's biography on her website SylvanGreenEarth.com

Read Christina Pax's biography on her website PaxGardens.com
Continuing Education Credits
This class will count as 6.5 hours of UME MG or UME MN continuing education and also towards the Advanced Training: Native Plants Certificate.
Refund Policy

No refunds will be awarded after September 23rd.