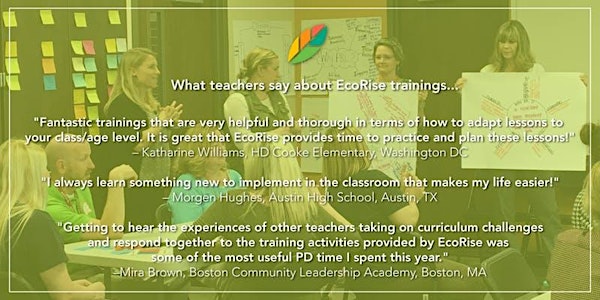 Sustainable Intelligence: Eco-Audit Grant and Design Workshop: Brooklyn, New York
When and where
Location
131 Livingston St Room 504 Brooklyn, New York 11201
Description
Empower your students to solve sustainability challenges through scientific inquiry and design thinking! We'll use EcoRise's Sustainable Intelligence and Design Studio curricula to collect data and tackle an environmentally-themed design challenge. After lunch, we will explore exemplary student projects that have been funded by EcoRise's Student Innovation Fund, complete a mock grant application, and network with experienced teachers to create an action plan that you can take back to your classroom and implement right away.
If you're thinking about applying for an EcoRise grant or want to learn more about the power of design thinking, then this workshop is for you!
New and experienced EcoRise teachers from all grade levels and content areas welcome! Please bring a laptop.
EcoRise teachers have access to the Sustainable Intelligence Program through the generous support of BNY Mellon and Structure Tone. Get started today: ecorise.org/enroll. Thank you to Brooklyn North Field Support Center for coordinating and co-facilitating this event.
This session is part 2 of a 2 session series, hosted in partnership with Brooklyn North Field Support Center. If you are preK-12 teacher that did not attend the first session and you're interested in attending this session, please email us at support@ecorise.org.
Questions? Email EcoRise staff at support@ecorise.org.