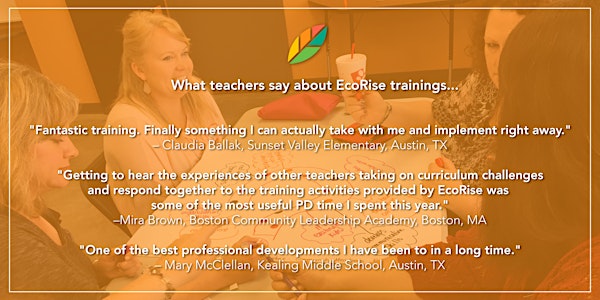 Sustainable Intelligence: Design Thinking and Eco-Audit Grants Workshop: Houston, Texas
When and where
Location
Harris County Department of Education Science Center 805 Reid St. Houston, Texas
Description
Empower your students to solve sustainability challenges on your campus, through scientific inquiry, eco-audits, and grant funds for green campus projects. We'll use EcoRise's Design Studio activities to tackle a design challenge, explore exemplar student projects, and complete a mock eco-audit grant application. Thinking about conducting an eco-audit or applying for an EcoRise grant? This workshop is for you.
New and experienced EcoRise teachers from all grade levels and content areas welcome! Lunch will be provide. Please bring a laptop.
Questions? Email EcoRise staff at support@ecorise.org.
*Houston area teachers can enroll in the Sustainable Intelligence Program for free through the generous support of the Green Mountain Energy Sun Club. Go to ecorise.org/enroll to get started.

**EcoRise Teacher Training and lunch is made possible through our partnership with Green Mountain Energy Sun Club.
DIRECTIONS:
This workshop will be held in HCDE's Science Center, which is located inside the surface parking lot across from the main building at 6300 Irvington Blvd. Irvington is the only exit off N. Loop 610 between I-45 and the Hardy Toll road. (Google Maps link - https://goo.gl/maps/5aN4uGWB6F82) The Science Center is located in the surface parking lot across Caplin Street from the main building. Drive to the back of the surface parking lot and make a left.

For a detailed parking/building map click here: https://www.dropbox.com/s/s9idtz08bm0oded/Map%20of%20HCDE%20Science%20Center%20at%20805%20Reid%20Street.doc?dl=0