Join us for our first ever Eco-Fair at County Hall and explore the ways we are helping to make a cleaner, greener, healthier Hertfordshire.
About this event
Take part in interactive activities
In between visiting stallholders and attending talks, there will be interactive activity workshops to enjoy in the Chairman's Dining Room.
Get your sustainable Christmas started with a wreath making workshop by Mudlarks - 10.30am to 11.00am
Get more out of your older clothes with sewing and up-cycling workshops with Step2Skills and the Social Sewing Bee. 11.15am to 11.55am (Step2Skills) and 12.10pm to 12.50pm (Social Sewing Bee)
You can also explore some of the sustainable equipment our frontline services are using including a fire engine, electric powered highways vehicles and our countryside management vehicles in the members car park at the front entrance to County Hall
Get inspired with educational talks
Want to hear more about how you can tackle climate change from some local experts? We've got talks from a wide variety of local organisations all doing their bit to tackle different aspects of the climate crisis, from biodiversity to carbon reduction and waste.
Seats for these events will be limited to 30 people to ensure social distancing so make sure you arrive on time to each session in the Beane Room to claim your spot.
Feeding Our Future: 'Introducing Feeding Our Future' - 11.10am to 11.40am
A look at how this new consortium of local interests is tackling food waste in Watford, and their recent Earthshot Prize nomination.
WasteAware: 'What's in our bins?: A behind the scenes look at the content and onwards journey of Hertfordshire's rubbish' - 11.50am to 12.50pm
A look at what the typical Hertfordshire household throws away in their rubbish. How much of it could have been recycled and how much could have been avoided altogether.
Herts and Middlesex Wildlife Trust: 'An integrated approach to addressing the climate and nature crises' - 1pm to 1.30pm
A talk about the work that the Wildlife Trust are doing to protect wildlife in Panshanger Park.
Friends of the Earth: 'The UK Net Zero Strategy - what you can do to help' - 1.40pm to 2.10pm
A session aimed at explaining the practical changes you can make in your life to reduce your impact on the environment.
Positively Talking Climate: How do we talk to one another about climate change? 2.20pm to 2.50pm
This talk will address climate change denial, and give advice on how to have constructive climate change conversations with friends and family.
Fun for the whole family
If you are bringing your children to the Eco-Fair, there will be plenty of activities to keep them entertained and educated including:
Arts and crafts
Eco word searches
Competitions
Nature exploration and education
Recycling games
A fire engine to explore
Claim your free wildflower seed bomb
Every Eco-Fair attendee will be given a complimentary native wildflower seed bomb. These seed bombs can be used to plant local, pollinator friendly wildflowers, increasing biodiversity and brightening up your local landscape. 
Watch sustainable art come to life
Our artist in residence, Kate Burgess, will be creating works of art throughout the event using only recycled and reused materials. As well as having some more examples of her sustainable art for sale.
Full list of exhibitors (this list may change)
County council services
Countryside and Rights of Way
Hertfordshire Fire and Rescue Service
Ringway
Rural Estates
Facilities Management Energy teams
Public Health Healthy Places
Hertfordshire Libraries
Waste Management Unit
WasteAware
Hertfordshire Archives and Local Studies
Sustainable Hertfordshire
Local businesses and organisations:
Bowler's Bees
Local Beekeeping Community Group
Positively Talking Climate
Scissor Happy Seema
Light Planet
Sustainable Sawbridgeworth
East & North Herts Waste Warriors
Outdoor Environment Education
Getting to County Hall:
We would encourage local residents to walk or cycle to County Hall if they are able to.
Residents coming from further afield can get here in a number of ways.
By bus:
The 308, 341, H3 and H4 buses all stop directly outside County Hall and a wide number of services will take you to Hertford town centre which is a 15 minute walk from County Hall.
You can use the Intalink Journey Planner to find your best route by bus, just search for 'County Hall, Hertford' as your destination.
By train:
There are two railway stations in Hertford, both of which are between 20-30 minutes walking distance from County Hall.
Hertford East – serving Liverpool Street
Hertford North – with trains from Stevenage and the north and London Kings Cross (evenings) London Moorgate (daytime)
Use the National Rail Journey Planner to plan your route.
By car:
We encourage residents to travel by more sustainable forms of travel where possible but there will be limited car parking available on the day for those who cannot.
Google Maps directions to our car park.
Please note that County Hall is a completely smoke-free site, meaning visitors can neither smoke or vape on the property. Anyone wishing to smoke or vape will need to leave the property to do so.
Accessibility requirements
We are committed to making the Eco-Fair an event that is accessible to everyone. If you have any specific accessibility needs please email sustainableherts@hertfordshire.gov.uk and we will endeavour to make arrangements for you.
Covid requirements
We are advising that attendees perform a lateral flow test on the day of the event. You can order free lateral flow tests from the Government website. https://www.gov.uk/order-coronavirus-rapid-lateral-flow-tests
Attendees must not attend if they, or members of their household, have COVID or COVID symptoms or if they have been in contact with someone with COVID in the last 10 days or have been asked to isolate. Please cancel your ticket if this applies to you.
We recommend the wearing of masks when indoors for the safety of yourselves and other attendees, social distancing measures will be in place and attendees are encouraged to follow the one-way system on the day.
Map of the event
Below is a map showing the different areas of the Eco-Fair.
Zone 1 will feature our fire and rescue service, countryside management teams, and highways repair teams. We will also have local car dealerships showcasing electric vehicles.
Zone 2 is where our show-and-tell sessions, talks and family friendly interactive activities will take place, along with more exhibitors. You will also be able to purchase food and drink, and there will be restroom facilities.
Zone 3 will feature a number of our exhibitors with stalls showcasing sustainable products, and giving advice and tips on how to be more sustainable.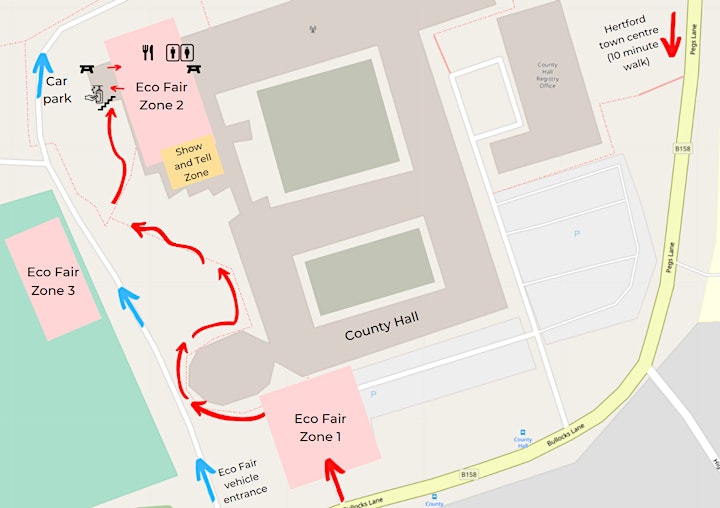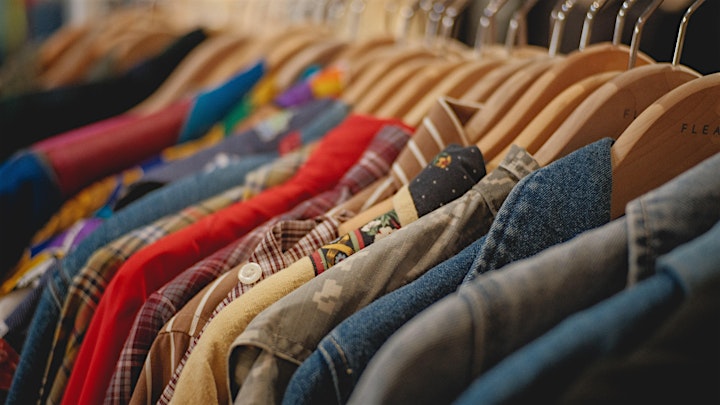 WasteAware 'Swishing' clothes swap event
Taking part is simple – during the 'drop off' time, you can bring along a maximum of ten unwanted, good quality clothes (adult sizes only) and earn one credit per item.
During the 'swap time' you can exchange your credit for items which are new-to-you. Check our rules below to make sure you bring the right items.
• Drop off: 10am - 12.30pm - marquee on the cricket pitch
• Swap: 1pm – 2pm – Mimram Room (inside the building and clearly signposted)
Clothes swap rules
• We can accept a maximum of ten items per person in adult sizes only.
• Items accepted: good quality adult sizes clothes.
• Items not accepted: bad quality items (dirty, ripped, torn, stained, broken zips, etc) shoes, bags, jewellery, underwear, nightwear, swimwear or babies and children's clothes.
• This event is for good quality, unwanted clothing only, if you have any unwearable clothing, this can either be repaired, or recycled in a textile bank.
• Bring your own reusable bags to take items home – carrier bags will not be provided.
• You can drop off your items at any point during the morning drop off session.
• All credit from these swaps will expire at 2pm on Saturday 27 November and cannot be used at swaps later in the year/next year.
• Any items remaining by the end of Saturday at 2pm will either be donated to charity or saved for another swap.