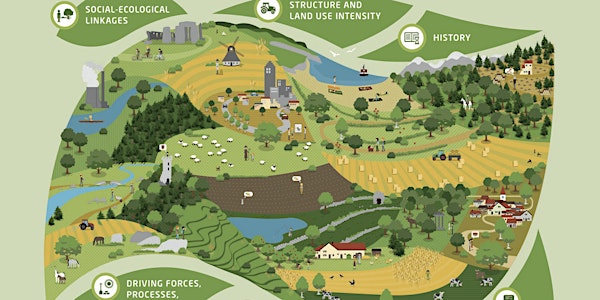 Sustainable futures for Europe's heritage in cultural landscapes: Applying...
Event Information
Location
Residence Palace
rue de la Loi 155 C
1000 Brussels
Belgium
Description
Online registration is closed, but onsite registration will be available at the venue.
---
09:00-13:00 CONFERENCE
Location: Residence Palace, Polak Room, Rue de la Loi 155C, 1040 Brussels
Title: 'Sustainable Futures for Europe's Heritage in Cultural Landscapes: Applying a landscape approach to land-use science and policy'
The adoption of the European Landscape Convention (ELC) has attracted attention from the sciences, policy makers and the general public but it has not yet managed to effect the formulation of common solutions to the main challenges facing European society today. The HERCULES project has underlined the importance of applying an holistic, multi-scalar and inter-disciplinary approach to effective research and understanding of rural landscapes in Europe. The next step would be to apply a 'landscape approach' to support their long term sustainability, i.e. respecting and enabling their inherent dynamics, cultural specificities and multi-agency nature. Having a landscape approach at the centre of policy and governance models will be a more effective way of accommodating and managing the competition and interdependencies for natural resources, cultural heritage values and ecosystem services among the Sustainable Development Goals and among land users. Governance and policy need to take into account the socio-economic factors at work in the landscape as well as the biophysical, in addition to the culture(s) of the people living and working within it.
Join us to debate the future of European landscapes and socio-economic challenges.
AGENDA
08:30 – 09:00 Registration
---
09:00 – 09:05 Welcome Tobias Plieninger (HERCULES Project Coordinator)
09:05 – 09:25 Opening Birgit De Boissezon (Head of Unit, Sustainable Management of Natural Resources, DG Research & Innovation, European Commission),
09:30 – 10:40 Session 1: Understanding the dynamics of cultural landscapes in Europe
Keynote address:
Understanding the Dynamics of Cultural Landscapes in Europe:
Applying Landscape Science by Guy Robinson (Editor of the journal Land Use Policy)
Discussants: Matthias Bürgi (Swiss Federal Institute for Forest, Snow and Landscape Research), Peter Verburg (VU University Amsterdam), Thanasis Kizos (University of the Aegean)
Moderator: Claudia Bieling (University of Hohenheim)
---
10:40 – 11:40 Organised group discussion over coffee, facilitated by Sarah McCarthy and Paul Tabbush (Landscape Research Group)
---
11:40 – 12:50 Session 2: How to apply a landscape approach to policies?
Keynote address:
Policy Priorities to Achieve the SDGs through Integrated Landscape Management by Sara J. Scherr (President and CEO, EcoAgriculture Partners)
Discussants: Martin Scheele (Head of Unit, Consistency of rural development, DG Agricultural and Rural Development, European Commission), Natalie Pauwels (Policy Assistant to the Director-General of DG Environment, European Commission), Anne Grady (Cultural Diversity and Innovation, DG Education and Culture, European Commission), Thierry de l´Escaille (Secretary General, European Landowners' Organization)
Moderator: Graham Fairclough (Landscape Research Group)
12:50 – 13:00 Conclusions Tobias Plieninger (HERCULES Project Coordinator)
13:00 – 14:00 Lunch break
---
The conference will be followed by a Workshop giving insights from the HERCULES project.
---
14:30-18:00 WORKSHOP
Location: Committee of the Regions, room JDE 51, Rue Belliard 101 - B-1040 Brussels
Title: 'Managing cultural landscapes for multiple societal values: Insights from the European HERCULES project'
AGENDA
Opening and Introduction Tobias Plieninger (HERCULES Project Coordinator)
14:30 – 16:00 Session 1: Multifunctional landscapes for sustainable development
Insights on:
A framework for European landscape research
Tobias Plieninger (HERCULES Project Coordinator)
Priority questions for cultural landscape research
Mónica Hernández (Humboldt-Universität zu Berlin)
Characterising European cultural landscapes: Accounting for structure, management intensity and value of agricultural and forest landscapes
Koen Tieskens (VU University Amsterdam)
Participatory mapping of landscape values in a European perspective
María García Martín (University of Freiburg)
Landscapes of the 'long now'
Jan Kolen (Leiden University)
The HERCULES Knowledge Hub: Mapping the challenges of citizen sciences
Matej Batič (Sinergise)
Valuing 'good practice' through landscape management assessment
Geneviève Girod (CEO, ALTICIME)
Celebrating Cultural Landscapes
Hannes Palang (Tallinn University)
Discussants:
Sara J. Scherr (President and CEO, EcoAgriculture Partners),
Guy Robinson (Editor of the journal Land Use Policy)
Moderator:
Bas Pedroli, (Alterra Wageningen / UNISCAPE)
16:00 – 16:30 Coffee break
---
16:30 – 18:00 Session 2: The science, policy, and practice of managing landscape change
Insights on:
Hotspots of land use change in Europe
Christian Levers (Humboldt-Universität zu Berlin)
Driving forces of landscape change: A pan-European, comparative analysis
Matthias Bürgi (Swiss Federal Institute for Forest, Snow and Landscape Research)
Simulating and discussing alternative futures for cultural landscapes: Insights from agent-based modelling
Cecilia Zagaria (VU University Amsterdam)
Responding to landscape change: Stakeholder participation and social capital
Thanasis Kizos (University of the Aegean)
Climate change and cultural landscapes
Jürgen Tack (European Landowners' Organization)
The science and practice of landscape stewardship in a sustainability transition context
Claudia Bieling (University of Hohenheim)
Landscape stewardship and agri-environmental policies
Christopher Raymond (Swedish University of Agricultural Sciences, Uppsala)
A landscape approach to environmental governance
Paul Tabbush (Landscape Research Group)
Discussants:
Sara J. Scherr (President and CEO, EcoAgriculture Partners),
Guy Robinson (Editor of the journal Land Use Policy)
Moderator:
Ingrid Sarlöv-Herlin, (Swedish Agricultural University)
Concluding remarks Emanuela De Menna (Policy Officer, DG Research & Innovation, European Commission)
---
Date and time
Location
Residence Palace
rue de la Loi 155 C
1000 Brussels
Belgium