HOW FASHION BRANDS ARE ADDRESSING ENVIRONMENTAL AND SOCIAL CONCERNS
About this event
THE EXPERIENCE:
Join creative directors Jill Hamilton and Nicole Murray, who work in sustainable fashion
Learn the growing importance of sustainability and circularity within the fashion industry
The presentation will be focused on sustainable denim & digital methods
CONNECT WITH US:
Web: FGIPhiladelphia.org
Instagram: @FGIPhiladelphia
Facebook: PhiladelphiaFGI
Email: fgiphilly@gmail.com
PLEASE NOTE:
Must be registered to attend
Must register with your first and last name and email address
Registration ends the day of event at 4:00pm
Zoom link will be sent the day of the event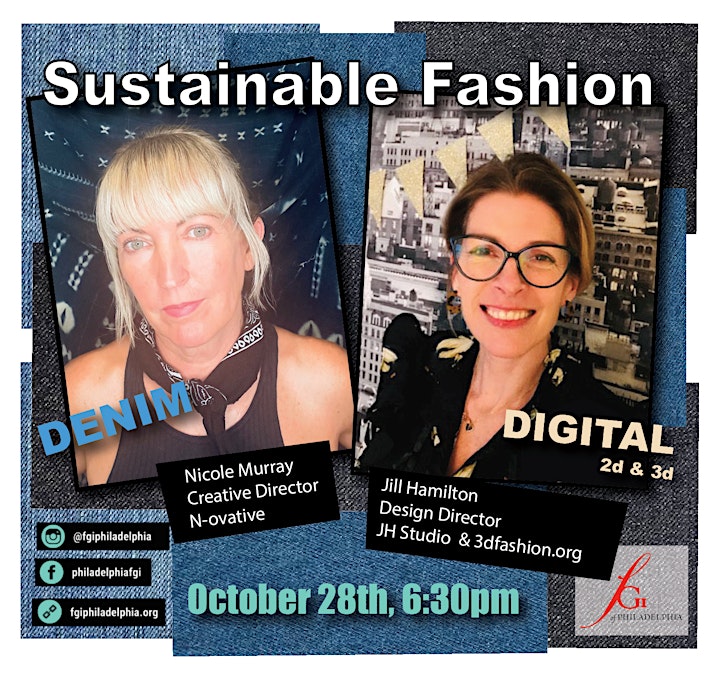 JILL HAMILTON is the Design Director and founder of JH Studio LLC, a design, print, fit, and product development studio, and 3dfashion.org, 3d design for digital sustainable fashion solutions. Jill is also an adjunct fashion design professor at Jefferson University, and an apparel systems researcher, where she explores systems innovation for sustainable apparel methods.
Jill has worked with numerous retail, direct-to-consumer, wholesale manufacturers, and celebrities in the apparel industry such as The Limited, K-Dash by Kardashian for QVC, Max Jeans, Mudd, Eddie Bauer, Ralph Lauren, Niki Minaj for Kmart, Liz Claiborne, Liz Lange, Lands End, TJ Maxx, Dillards, Catherine's, Walmart, and private label Amazon brands.
NICOLE MURRAY is the Creative Director and Brand Strategist and founder for N-ovative Design Group. Nicole is an expert who identifies and fills the white space in direct-to-consumer, retail, and wholesale markets. Huajin Co. Ltd (fabric mill), Nanjing/JD United/Roo Hsing (manufacturer), Anthropologie, Target, and Dollhouse are just a sampling of the companies she has impacted.
Over the past five years, Nicole has been focused on sustainability in the denim industry through manufacturing along with designing sustainable woven fabrics with Lenzig fibers including Tencel, Ecovera, and others. Her latest venture is focused on reducing the carbon footprint by bringing manufacturing back to the United States and producing for direct-to-consumer influencers and brands in Los Angeles.