About this Event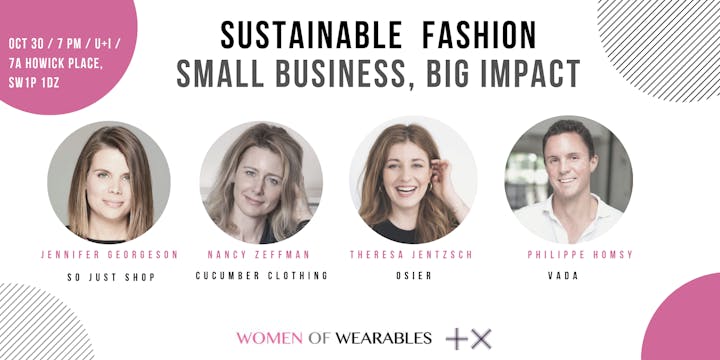 According to UN Environment, the fashion industry produces 20% of global wastewater and 10% of global carbon emissions - more than all international flights and maritime shipping.
But, we have the power to do something about it. Starting with more conscious purchasing decisions and being aware of what we buy and who we support by it.
Come and meet three amazing fashion brands and their founders who will be discussing topics including:
What is the definition of sustainable fashion?
What does the future of the fashion industry look like?
Is it possible to be 100% sustainable in fashion?
How to start living a more sustainable lifestyle?
How to be more conscious about shopping habits?
What it takes to create a sustainable and ethical brand?
Whether you're interested in starting a fashion business, excited to hear the story behind a great brand, or are into living sustainably, we hope this event will inspire you to ditch fast fashion in favor of timeless pieces made by sustainable and ethical small businesses.
*** GIVEAWAY ***
We are honoured that our partners and sponsors VADA have donated one pair of their stylish sustainable flats as a prize giveaway on the night! Each attendee will get the chance to participate in this giveaway!
MEET THE SPEAKERS
Jennifer Georgeson, Founder and CEO of So Just Shop
Jennifer has extensive experience in both the not-for-profit and for-profit world. So Just Shop is an accessories, homeware and gifting marketplace working directly with women-led artisans from some of the most vulnerable communities in the world. Jennifer lived and worked for a number of years in Zambia, working on prevention of mother-to-child transmission of HIV programmes with University College London, whilst simultaneously completing a part time PhD. With a background in statistics project management she then successfully transferred these skills into marketing analysis consultant for several UK based tech start ups. So Just Shop was born out of the idea of starting an impact business focusing on women's economic empowerment.
Theresa Jentzsch, Founder of OSIER
After going vegan four years ago, Theresa had no trouble finding vegan food options, from vegan burgers, sweets, vegan options very everywhere. But finding fashionable vegan accessories like belts, shoes and bags was more challenging. Out of her own need for beautiful and cruelty-free designs, she started her own company with Fiona Mitchell as Head of Design. OSIER bags are designed and handmade in Europe with factory based in the heart of Bucharest, the capital of Romania, chosen to reduce air miles and the CO2 footprint of our products. OSIER continuously strives to improve every step of our manufacturing process, using sustainable, eco-friendly materials while keeping our eye out for new, innovative vegan leathers.
Nancy Zeffman, Co-Founder of Cucumber Clothing
Nancy is a Co-Founder of Cucumber Clothing, an innovative, solution-based fashion brand specialising in beautiful nightwear and loungewear. Nancy founded the company with Eileen Willett who she met at the school gates almost twenty years ago. They both recognised the need for stylish, sustainable sleepwear and loungewear using cutting edge fabric technology to help maintain an even body temperature and keep the wearer cool day and night.  
Philippe Homsy, Co-Founder of VADA
Philippe Homsy is one of the co-founders and the Head of Sales at VADA, the new sustainable footwear brand. VADA creates seasonless wardrobe essentials made from sustainable materials, so you can look good and feel good about it. VADA puts sustainability at the centre of everything they do, starting with the best possible materials for you and for our planet. Eco-friendly from sole to box.
Agenda
6.00 - 6.30 - Registration and networking
6.30 - 6.35 - Women of Wearables - 5 minute presentation
6:35 - 6:50 - Partners - 5 min presentation
6.50 - 8.00 - Panel discussion + Q&A and giveaway
8.00 - 9.00 - Food, refreshments and networking
*Be advised that we will be taking photographs at the event, which we will be using in the future to promote Women of Wearables' activities. By registering for this event you are giving Women of Wearables permission to take your picture and post them on our website and social media channels as well as use them in other promotional materials.
Many thanks to our partners and sponsors U+I for hosting us for the evening!
MEET YOUR HOST
Marija Butkovic is the founder and CEO of Women of Wearables (WoW), digital marketing and business consultant and STEM ambassador who regularly writes about tech, diversity, startups and entrepreneurship. She is very passionate about supporting female founders and entrepreneurs, and through her work has always tried to highlight women who could serve as role models to her community.
ABOUT WoW
Women of Wearables (WoW) is a leading global organisation supporting women and diversity in wearable tech, fashion tech and IoT. With headquarters in London (UK) and more than 20,000 members located around the globe, WoW has become a global movement that supports women in emerging technologies through events, mentorship, educational programs and collaboration with its network of local ambassadors and partners.
ABOUT OUR VENUE PARTNER
Plus X is a brand new enterprise, building Innovation Hubs with work space around the UK pioneering business support, innovation, curated collaboration, wellbeing and positive local impact. Temporary website here for more info: https://plusx.space/
The first Plus X Innovation Hub goes live in Brighton in January 2020. Their second West London launch takes place in Autumn 2020 as an evolution of the existing Central Research Laboratory for product pioneers.
Plus X have kindly allowed us to use the amazing event space belonging to their partners, property regeneration specialists, U+I, located in Victoria, London. More about Plus X to be revealed over the coming months!