Sustainable Development Goals (SDGs), Business Conference To Advocate UN SD...
Description

Event: BUSINESS CONFERENCE TO ADVOCATE UN SUSTAINABLE DEVELOPMENT GOALS (SDGs) AMONG BUSINESSES
Date: 24 August 2017 • 9AM - 4PM
Venue: Menara Usahawan, Persiaran Perdana, Presint 2, 62652 Putrajaya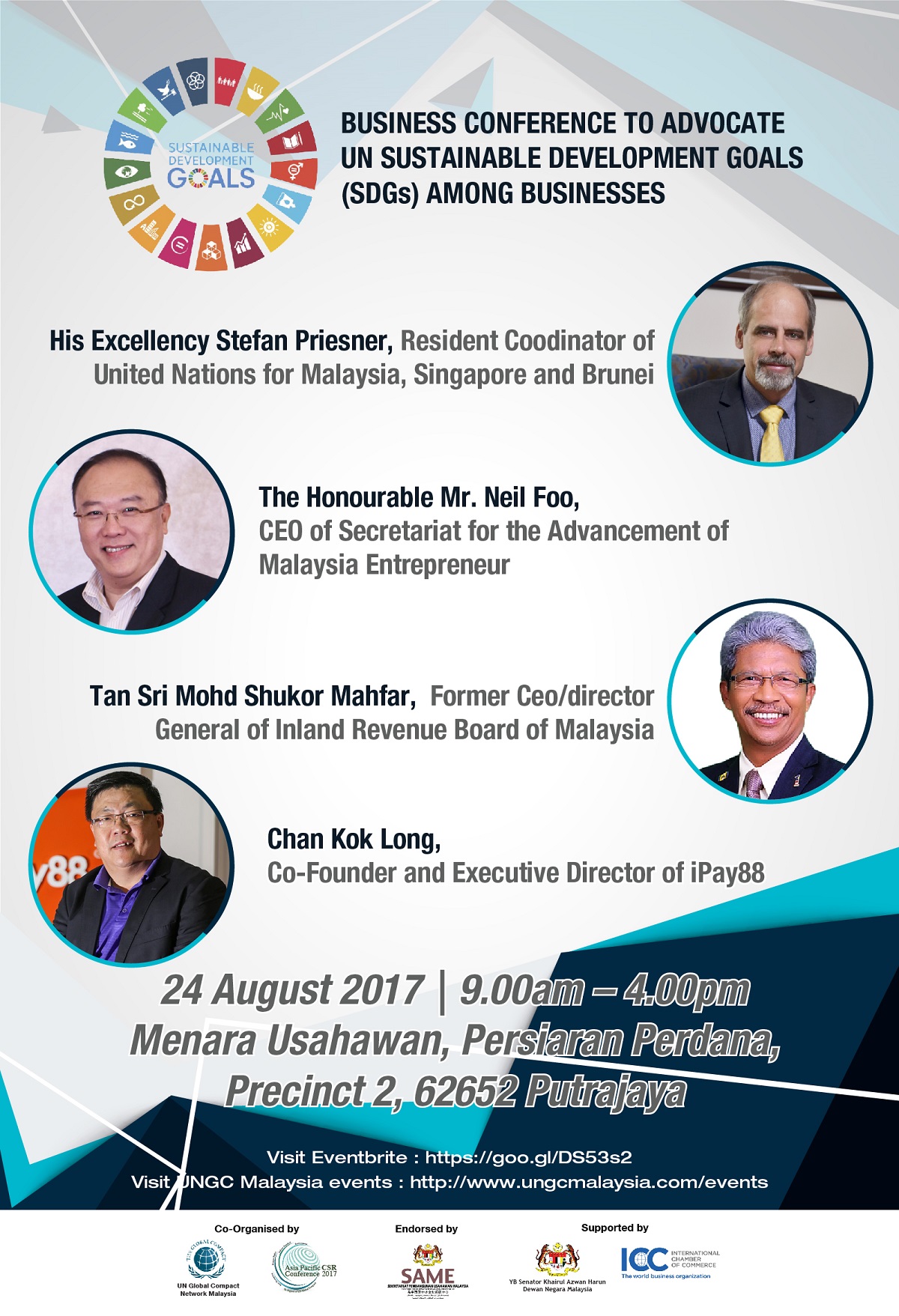 Keynote Address:
Keynote Address 1 by His Excellency Stefan Priesner, Resident Coordinator of United Nations for Malaysia, Singapore and Brunei.
Keynote Address 2 by His Excellency Dr. Puvan J. Selvanathan, President, UN Global Compact Network Malaysia.
Key Highlights:
PLENARY 1: Achieving the SDGs together with businesses
Doing well and doing good: Insights from leaders of leading corporations, SMEs as well as public agencies
Global Goals 2030 – what does this mean for Malaysia? How can we leave no one behind?
The expectation of corporate Malaysia to be a key enabler in achieving the national SDG plans
PLENARY 2: Using SDGs to enable better ROIs leading to better business and opportunities, and increase profit
How to use SDGs to impact bottom line?
What are the implication for business and for achieving the global goals?
Delivering solutions for better lives in a growing world and interconnecting people, planet and profit
PLENARY 3: Organisation leadership in building human capital to create better business
Labour crunch is affecting businesses operating in Malaysia, how can good CSR practices help with talent attraction and retention, and build better business?
Is management viewing human capital with the same rigor as financial capital which is often seen as the most important?
Looking beyond your employees – are suppliers taking care of their staff and what is the business risks when they don't?
PLENARY 4: Funding the future responsibly
Has ethical investment reached mainstream in Malaysia?
Can responsible investments mean a competitive advantage?

What are some of the value-destroying reputational risks from issues such as climate change, pollution, working conditions, employee diversity, corruption and aggressive tax strategies in a world of globalized and social media?
Who Should Attend:
Key decision makers and motivators from MNCs and SMEs
C-suite executives interested in long-term business sustainability
CSR and sustainability experts and consultants
Entrepreneurs and strategists
Corporate development and communication managers
Policymakers, non-profit, academic and think-tank groups
Legal and compliance professionals
HR Managers, trade union and co-operative leaders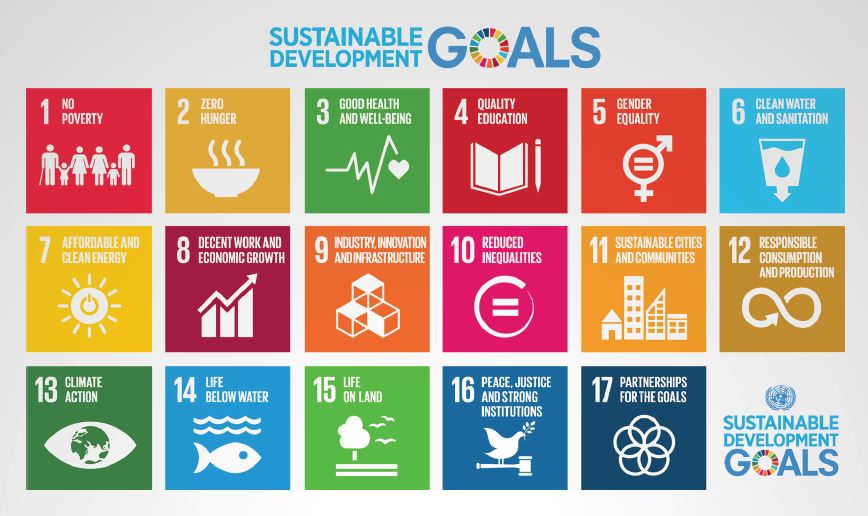 About This Conference:
The conference objective is to promote the awareness of the Sustainable Development Goals (SGDs) among businesses.

300 leaders from business and government exchange ideas and dialogue about Corporate Sustainability & Responsibility
Expert speakers from va

rious sectors will share insights and strategies for sustainable growth and CSR.

Introduce to global trends about and around the SDGs, such as the Circular economy and Sharing Economy, and what these may mean to business.
About SDGs For Business:
On 25 September 2015, 193 Member States of the United Nations ratified a plan to shape a better future for all – setting out a roadmap for the next 15 years to end extreme poverty, fight inequality and injustice, and protect our planet. At the heart of this "Agenda 2030" are 17 Sustainable Development Goals (SDGs) and 169 related targets that address the most important economic, social, environmental and governance challenges of our time.
With SDGs, businesses now have a globally-accepted and practical definition of sustainable development, which in turn will help companies align their own strategies and practices with global priorities. In doing so, businesses will need to assume a greater role and devise common platforms for dialogue and partnerships with other companies, civil society organizations and governments.
The SDGs hold potential to guide companies in their long-term investments, strategic prioritization and goal setting. All SDGs may not be relevant to every company, but there is a strong and proven business case for companies to contribute to the realization of each SDG, for example, opening new market opportunities, improving productivity, mitigating risks and improving a company's reputation.
For more information,
please contact the organising secretariat at
03-7887 6919
or visit :
www.asiapacificcsrcouncil.org
www.ungcmalaysia.org
Find us on Facebook : https://www.facebook.com/APACCSRCouncil