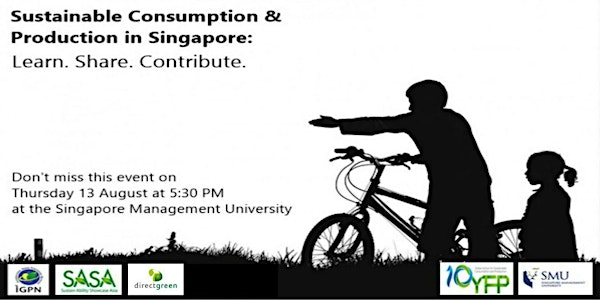 Sustainable Consumption & Production in Singapore:Learn. Share. Contribute.
When and where
Location
Wee Kim Wee Centre at SMU SMU Admin Building, 81 Victoria Street Executive Seminar Room SR 4.1, 4th floor Singapore, 188065 Singapore
Description
Are we producing, buying, consuming and wasting too much?
How can Singapore promote zero waste as part of its Sustainable Roadmap when it continues to foster over-consumption?
Come along to learn, share and contribute to the discussion on what Singapore is doing - or should be doing-about it.
Don't miss this event on Thursday 13 August at the Singapore Management University, when the report entitled "Sustainable Consumption Guide for Policy Makers: Debunking Myths and Outlining Solutions", produced by the United Nations Environment programme (UNEP), will be presented and discussed. It is also the first public event staged in Singapore for Green Purchasing Network Singapore, part of the International Green Purchasing Network (IGPN).
Wee Kim Wee Centre at Singapore Management University
is hosting this event organised by
SASA, Directgreen and IGPN
Executive Seminar Room SR 4.1, 4th floor, SMU Admin Building,
81 Victoria Street, Singapore
Thursday 13 August 2015 at 5.30pm.
Refreshments will be served.
To give the evening a purpose beyond purely networking and information gathering, we have arranged for a panel of speakers to cover the topics around Sustainable Consumption and Production, Green Procurement and Sustainable Supply Chains.
Ken Hickson, Chairman Singapore Chapter of IGPN; Chairman/CEO Sustain Ability Showcase Asia (SASA), Author of "Race for Sustainable" and "The ABC of Carbon".
Servé Sondeijker, Founder Directgreen and member IGPN.
Andras Koszegi, Director BrandTrend.
To provide for maximum understanding of the important topics and to learn about solutions, products and services available, we have also invited representatives of the following organisations to present and share:
National Environment Agency (NEA), GIZ, Brands for Good, Interface, Positive Impact, Unilever, Green Freight Asia, Zero Waste Singapore, Circular Economy, Future Cities Laboratory.
Others are welcome to come and have their say!
Registration closes at August 6, 2015.