Sustainable City Series: Tactical Urbanism
When and where
Location
Fresh Start Growers' Supply 1007 East Jefferson Street Louisville, KY 40202
Description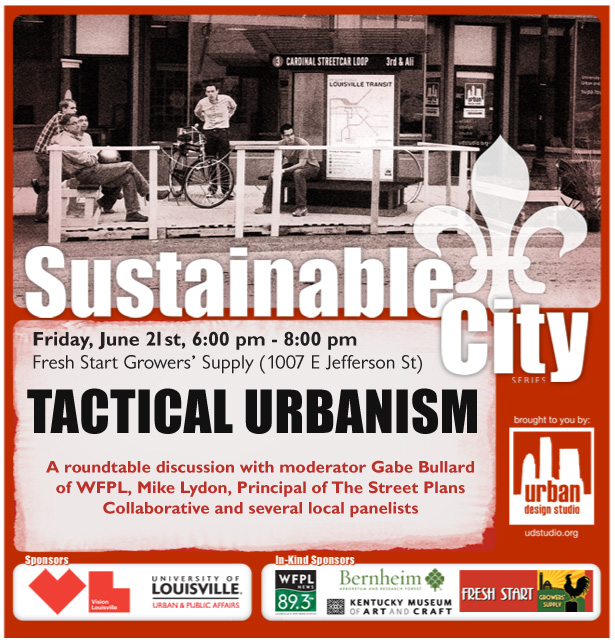 Mike Lydon, founding Principal of The Street Plans Collaborative and primary author of TacticalUrbanism: Short-Term Action, Long-Term Change Vol. 1 and Vol. 2, will explain how Louisville can advance long-term visions for our city through short-term Tactical Urbanism interventions during this roundtable discussion event.
Tactical Urbanism is a fast-growing, international movement to catalyze change in cities by utilizing small-scale pilot projects and other actions to advance long-term change. Some examples include Park(ing) Day, CycLouvia, Food Trucks, Better Blocks Program, and Pop-up Retail to name a few. TU projects frequently involve organizing local community members to utilize inexpensive materials to temporarily transform small areas into higher quality places. The intent is to provide a proof of concept before more expensive infrastructure is committed. These interventions get the community involved in the process, and often excited, which helps build support and understanding by allowing the community to tangibly visualize the potential of underutilized space.
Please join us on June 21st for this engaging roundtable discussion with moderator Gabe Bullard, Mike Lydon, and several local panelists.
In the spirit of Tactical Urbanism, the amazing Holy Molé and French Indo-Canada food trucks will be joining us and ready by 5:30 pm at Fresh Start if you would like to place an order for some amazing food!