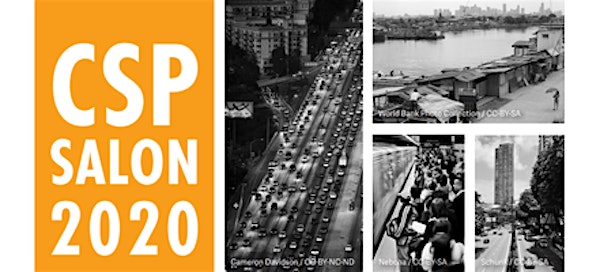 "Sustainable Cities of the Future" - CSP-Salon 2020
We kindly invite you to the annual CSP-Salon to discuss current global challenges from an interdisciplinary perspective.
By DAAD German Academic Exchange Service
Date and time
Monday, February 24, 2020 · 3 - 6pm EST
Location
German House, Auditorium 871 United Nations Plaza New York, NY 10017
About this event
This year's focus will be on Sustainable Development Goal (SDG) 11
"Sustainable Cities and Communities".
The topic
Although cities are often characterized by stark socioeconomic inequalities and poor environmental conditions, they also offer growth and development potential – making SDG 11 "Make cities inclusive, safe, resilient and sustainable" central to the 2030 Agenda. In this regard, cities are the spaces where all SDGs can be integrated to provide holistic solutions to the challenges of poverty, exclusion, climate change and other risks.
This month, the 10th Session of the World Urban Forum (WUF 10) will be held in Abu Dhabi. Together with the launch of the "Decade of Action to deliver the SDGs by 2030", it is a fitting time to share views and experiences on sustainable urbanization in all its ramifications. This Salon is an opportunity to discuss what cities could look like in the future and how megacities (>10 million inhabitants) can be designed. The discussion will explore the current opportunities and threats to build sustainable cities and will review the role of the UN in this process.
We welcome you
Our goal is to engage different stakeholders, from different sectors, all working towards the same goal of making cities more liveable, resilient and sustainable. We welcome you to join the conversation at the 2020 CSP-Salon.
About us
We are a group of 17 fellows of the Carlo-Schmid-Program (CSP), working in different departments and programs of the United Nations in New York City. The CSP is a scholarship program for internships in international organizations, jointly run by the German Academic Exchange Service (DAAD) and the German Academic Scholarship Foundation (Studienstiftung des deutschen Volkes). It is funded by the German Federal Ministry of Education and Research and the Mercator Foundation.
Each year, Carlo-Schmid fellows organize a CSP-Salon to discuss global challenges from an interdisciplinary angle. This year, we invite you for an engaging exchange on SDG11 "Sustainable Cities and Communities".
Please bring a valid photo ID for check-in.