SUSTAINABLE CHILDBIRTH with midwife Robin Lim and Dr. Eden Fromberg, OBGYN
Description
SUSTAINABLE CHILDBIRTH IN THE ERA OF CLIMATE CHANGE
Lessons learned in the Epicenters of 'Unnatural' Disasters from Bali to NYC and how Midwife-to-Mother Care Can Restore Planetary Health
with
Ibu Robin Lim, internationally renowned midwife and 2011 CNN Hero of the Year
and
Dr. Eden Fromberg, holistic OB/GYN, international women's health consultant, and osteopathic somatic movement educator
Teaching together, Ibu Robin Lim and Dr. Eden Fromberg will reference their diverse and intertwined perspectives and experiences deepened during their 20-year clinical, personal, and spiritual relationship spanning oceans. Physiologic childbirth practices and clinical controversies will be discussed from global perspectives relevant to the urgent human rights and environmental issues of our time. This event is for: Mothers, midwives, doulas, birthworkers, and anyone with a passion about childbirth, women's and global health. 1:00-6:30pm, doors open 12:30pm
An evening screening of the film, Guerrilla Midwife, featuring Robin Lim's work with LIVE Q&A, will follow the afternoon workshop starting at 7pm.
$150 workshop plus film
$20 film only
Refund Policy - All purchases are nonrefundable.
Mats, cushions and yoga blankets will be available for floor seating. Let us know in advance if you have special needs and we will do our best to accommodate. The studio is a walk up space.
Included in our afternoon workshop discussion will be:
The Innate Wisdom of Childbirth
Microbiome and Immune Transfer: Birth Ecology = Human Ecology = Planetary Ecology
Oxytocin: Hormone of Love and Childbirth
Transgenerational Epigenetics
Prenatal "Scare"
Is Homebirth Safe?
Pushing, Gravity and Wave Motion
Delayed Cord Clamping and Cutting and the Alternative Management of the Third Stage of Labor: Physiology & Practice, Cultural Significance, Connective Tissue Biology, Cord Burning
Placenta, The Forgotten Chakra
Lotus Birth
Optimal umbilical cord care at birth and in the first days postpartum
Human Rights in Childbirth
Childbirth in Disaster: Bali, Nepal, Philippines, Aceh, Haiti, NYC
Midwives' role in advocating for the human rights of newborns
Can You Refuse? Can Your Doctor? Childbirth Interventions, Informed Consent, and Human Rights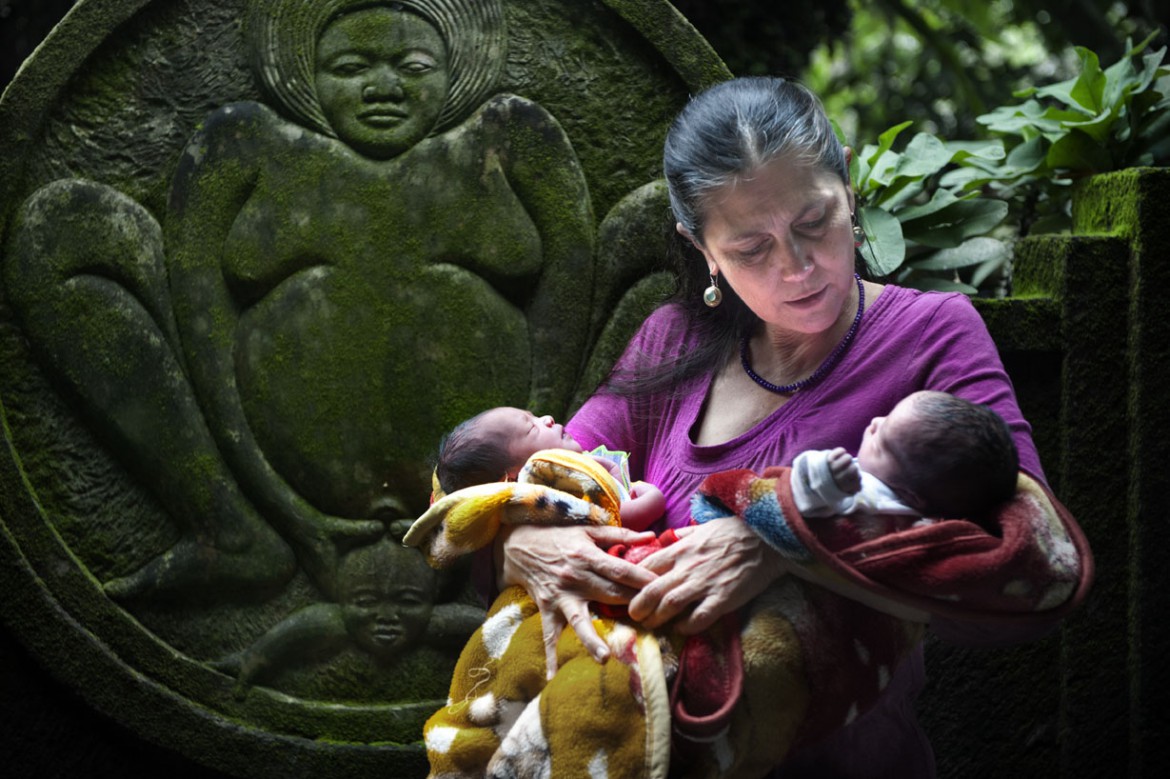 Ibu Robin Lim's experiences bringing Midwife-to-Mother care to parts of the planet devastated by disasters have taught her the essential role midwives play in the survival and rebuilding of communities. When people suddenly are left homeless, hungry and thirsty, when hospitals and health centers are razed and roads impassible, pregnant women must still have their babies. Globally, it is the midwives who are trusted as the first go-to medics, when a child is hurt or an elder is ill. After the 9.3 earthquake and tsunami of 2004, only 32 of the prior 154 midwives in the Samatiga area of Aceh survived. These women, also homeless, grieving their dead, without food, water, light or medicines, were the first to respond to the sorrow, suffering and trauma of the people. Ibu Robin and her team arrived soon thereafter.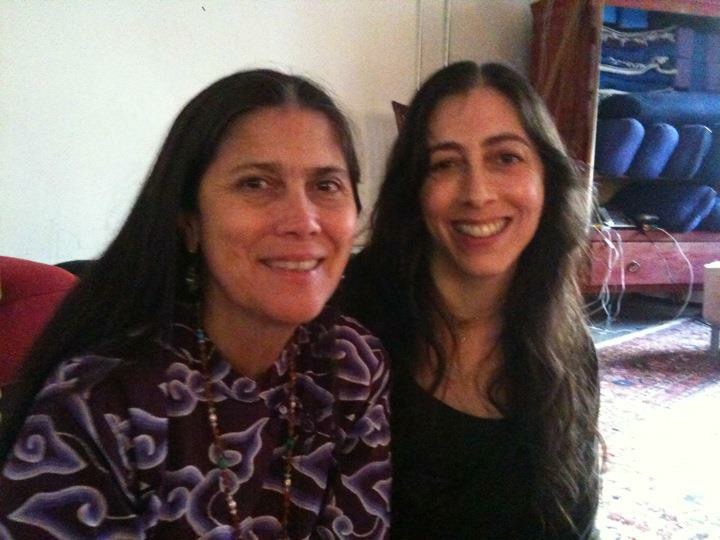 Holistic obstetrician/gynecologist Dr. Eden Fromberg, who has worked and consulted with Robin Lim since 1997, discusses the ways in which modern childbirth practices, packaged in a veneer of "safety," in fact fragment families and communities, and disrupt everything from gene expression to the microbiome with effects as significant as those of natural and sociopolitical disasters. Innate childbirth wisdom literally encoded by transgenerational epigenetics informed by human experience has been diluted by increasing reliance on technology, pharmacy, and surgery, with unsustainable consequences that science is now revealing. Human exposure to industrialized lifestyles ranging from synthetic nutrition to nonphysiologic childbirth in the context of toxic environmental dysregulation, war, and the displacement of well-established and indigenous global populations diminish the health of next generations beginning at the pre-embryologic level. Unsustainable modern childbirth techniques and interventions have led to alarming disruptions in the human microbiome, the foundation of our and all future generations' health and immunity, and are implicated in fundamental developmental disruptions that threaten the physical and emotional health of our species.
About the film, Guerrilla Midwife
Along the fragrant streets of Bali and desolate Acehnese refugee camps of the Indonesian Archipelago, Midwife-Ibu Robin Lim finds herself at a time and place where midwifery is put to the test. Filmed i mmediately following the December 26, 2004 Indian Ocean Tsunami this culturally mesmerizing, heart-wrenching documentary vividly demonstrates why we must change our protocols for pregnancy and childbirth, and return to a gentle, natural method if our planet is to survive.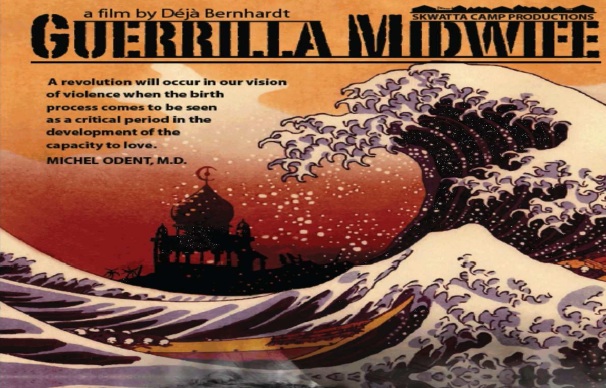 We honor the vibrant midwifery presence at Standing Rock, a true epicenter of birth in the era of climate change, in recognizing our mutual responsibilities in protecting the ecosystem of the living, sacred Earth, the rivers of Life that course through our bodies, and the rhythms of birth that resonate for generations.
Ibu (mother) Robin Lim, Grandmother and Certified Professional Midwife with the North American Registry of Midwives, Integrated Midwives of the Philippines, and Ikatan Bidan Indonesia, is a founder and an executive director for Yayasan Bumi Sehat (Healthy Mother Earth Foundation), an international not-for-profit organization located in Indonesia. "Lola" (grandmother) Robin, as she is known in the Philippines is a founder and board member for, Wanita dan Harapan (Women and Hope) Philippines, a not-for-profit organization.
Ibu Robin is also an accomplished author and has been celebrated for her service and charitable works with marginalized people in need. In 1991 she published After The Baby's Birth, the first complete work on the subject of women's health after childbirth. In 2009 Ibu Robin's daughter, Déjà Bernhardt, released an award winning documentary Guerrilla Midwife on the work of her mother, Bumi Sehat and the importance of gentle birth for a peaceful planet. Ibu Robin also wrote the script for the documentary directed by Déjà, Tsunami Notebook.
"My inspiration is my family: husband Wil and my eight astounding children: Déjà, Noël, Zhòu, Lakota, Zion, Thoreau, Hanoman & EllyAnna, ages 38 to 8. Three of the most profound moments in my life were receiving my granddaughter Zhouie and grandsons Bodhi & Tashi into my hands, at home. I follow the heartbeat and footsteps of my Filipino Grandmother, Vicenta Munar Lim, a Hilot and traditional birth attendant in the Baguio mountain region of Luzon, Philippine Islands. Before, during and after WWII, she served as a healer and baby catcher for her people. Om Shanti"
~ Ibu Robin
Awards:
· 2005: Women of Peace Award by the Women's PeacePower Foundation.
· 2005: Asian American Volunteer Person of the Year award, shared with her daughter, Déjà Cresencia Jehle Bernhardt.
· 2006: Alexander Langer International Peace Award.
· 2011: CNN Hero of the Year
2012: BirthKeeper of the Year, in memory of Jeannine Parvati from the Association of Pre and Peri-natal Psychological Health.

Additional donations to Ibu Robin Lim and Yayasan Bumi Sehat can be made here, and you will have the option to attend a VIP fundraising dinner in NYC on December 12:
https://www.crowdrise.com/december-12th-bumi-sehat-fundraising-nyc/
Eden Fromberg, DO, FACOOG, ABIHM
Dr. Eden Fromberg is the Founder and Director of Holistic Gynecology New York, a sanctuary for truly holistic women's healthcare, and of Lila Wellness, directing yoga and movement programs and trainings for women and professionals. As an osteopathic physician and clinical professor, Board Certified in both OB/GYN and Holistic Medicine, and Founding Member of the Fascia Research Society, she has advanced training and expertise in manual therapies including gynecological visceral and urogenital manipulation, studying directly with Jean-Pierre Barral. Eden researches, develops, and teaches therapeutic applications of yoga and somatic movement, studying with master teachers including the late Emilie Conrad. Eden's insights into the interconnectedness of the body fundamentally reframe the medical dialogue and offer a spectrum of diagnostic perspectives and holistic treatment options, helping women throughout the life cycle achieve optimal hormonal, pelvic, and personal health. She addresses the complex areas of female pain, pelvic floor and sexual dysfunction from an integrative perspective, and teaches and consults with midwives and birth centers internationally, working intimately with Robin Lim in Bali since 1997, and with Ina May Gaskin. Eden appeared in the film The Business of Being Born, has been on the Medical Review Board and writes for the Huffington Post, and her work has been featured in Time, Yoga Journal, BUST, Natural Health, Spirituality & Health, and Midwifery Today.