Sustainable and Fabulous Fashion Show by Magnifeco.com and NYC Fair Trade C...
Description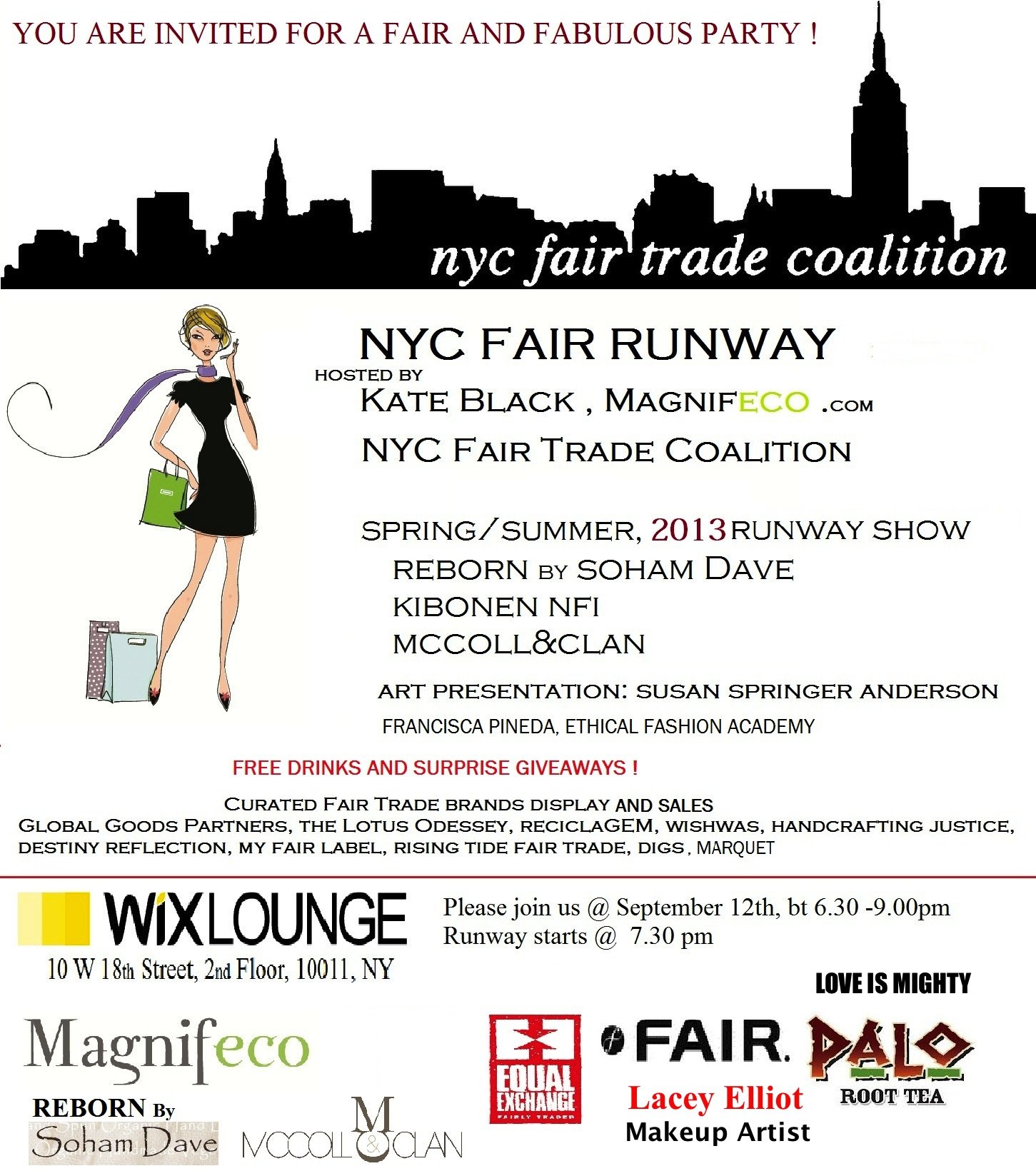 Join us for a special party to celebrate fair trade and fashion @ Wix Lounge.
Spring Summer 2013 RUNWAY PRESENTATION by:
Doors open at 6:30 pm
Runway starts at 7:30 pm
Cocktail tasting by
FAIR Vodka
, Root Tea by
Palo Tea
, and Guayusa by
Runa Tea
.
Free fair trade wine from
Stellar Organics
and surprise giveaways. Fair Trade brand accessories from Destiny Reflection, Global Goods Partners, Handcrafting Justice, Marquet Fair Trade, and ReciclaGEM will be available for sale.
NYCFTC
is an all volunteer grassroots organization educating consumers on the value and importance of fair trade and promoting fair trade businesses in NYC.
MAGNIFECO
, your daily eco-fashion blog featuring gorgeous products that are fair-trade, sustainable, organic, recycled, vintage and/or vegan. Where ethics meet aesthetics we feature eco things for yourself, a loved one, your home or the planet (even our sponsors are ethically-minded).
Dedicated to preserving indigenous arts and tribal culture in India, Monisha Raja has made a line of shoes to preserve material and craftsmanship in danger of becoming extinct. All shoes are vegan and were recently featured in Marie Claire, USA and India. Amanda Hearst, Fashion Editor of Marie Claire is a fan and owns a few flats. Natalie Portman recently got a pair of the recycled plastic pumps, which will be on sale at the event.
ART EXHIBITION by
Susan Springer Anderson
Susan Springer Anderson re-appropriates traditional and non-traditional art materials to create sculptural drawings/paintings and figurative assemblage sculptures. Her works range from striking figures to quiet and subdued, abstract topographical maps, incorporating materials such as jute, cotton strings, sticks and coffee filters.
Lacey specializes in makeup for weddings and commercials, and will soon enroll in the Makeup Designory School in NYC. For this show, she will use eco-friendly, vegan makeup by Josie Maran.
Francisca Pineda will also be on hand to promote her
ethical fashion abroad program
working with indigenous artisans from the Talamanca region near Puerto Viejo.
Special thanks to
WIX LOUNGE
for providing the space! Located steps from Union Square, the Wix Lounge is a completely free co-working and event space for creative professionals. Grab your laptop, pop into the Lounge and enjoy a productive workday, great networking opportunities, and amazing events. Active since 2010, the Wix Lounge is run by Wix.com, a free website publishing platform providing user friendly tools for building beautiful, easy-to-make desktop, mobile, and Facebook sites. The Wix Lounge provides free support to Wix.com users, giving them help and advice for making the ideal website. To learn more about the Wix Lounge, please visit
www.wixlounge.com
.