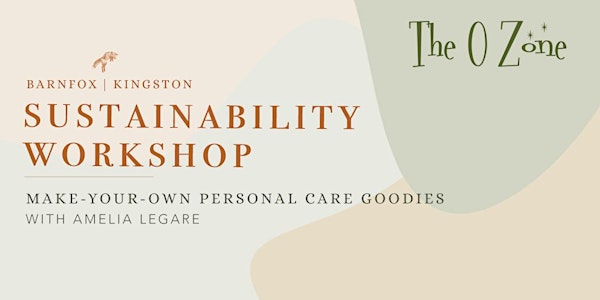 Sustainability Workshop
In Person Sustainability Workshop | Make-your-own personal care goodies!
When and where
Location
Barnfox Kingston 291 Wall st. 4th floor Kingston, NY 12401
About this event
Amelia Legare of The O Zone is coming to Barnfox in Kingston for a sustainability workshop, Thursday 4/15 at 5pm where she will be hosting an in person discussion about sustainable habits and how-to-make personal care goodies workshop, including:
Refillable, Plastic-free Peppermint Toothpaste
Refillable, Plastic-free All Natural Deodorant Cream
This workshop is FREE to attend and all materials will be covered + provided by Barnfox.
About O-Zone & Amelie Legare:
Amelia Legare was born and raised in the Hudson Valley. Her passion is rooted in the realms of the therapeutic nature of plants with a focus on agriculture and gardening. She's trained in organic and sustainable farming methods worldwide, including in France, Spain, Costa Rica, and Japan, as well as worked as a garden educator in the United States.
In February of 2020, Amelia opened her own business, The O Zone, located in the open nature of the Hudson Valley, in Red Hook. The O Zone brings together sustainability, health and education. Amelia has worked toward creating a space for the community to make healthy lifestyle choices, to exchange ideas of how to live in harmony with nature instead of at the expense of it, and welcomes everyone to contribute during a time when we need to protect our environment more than ever.