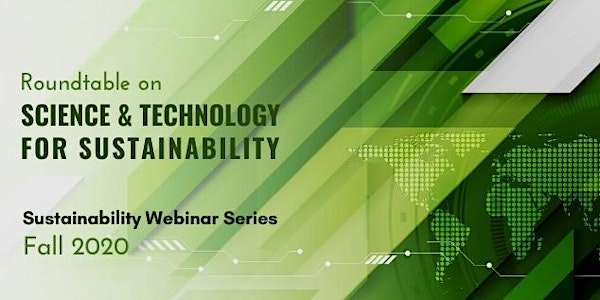 Sustainability Webinar Series: Urban Sustainability
You are invited to a webinar focused on urban sustainability.
About this event
The National Academies of Sciences, Engineering, and Medicine's Roundtable on Science and Technology for Sustainability is convening a series of sustainability webinars in Fall 2020. Each webinar focuses on the following key topics: (1) sustainability-peace nexus: refugees and migration; (2) digital transformation and sustainability; (3) plastics and circular economy; and (4) urban sustainability. The webinars are aimed at the next generation, including graduate and undergraduate students, early career professionals, and emerging leaders in sustainability and other relevant areas.
Our final webinar focused on Urban Sustainability will take place on Tuesday, November 24, 2020 from 11:00 am to 12:00 noon EST. Our Roundtable chair David Dzombak (NAE), Carnegie Mellon University will provide opening remarks, and our members Nancy Grimm (NAS), Arizona State University, Scott Hutchins, U.S. Department of Agriculture, and Miguel Román, Universities Space Research Association will share their rich experience and expertise, followed by a Q&A session.
The topic is linked to United Nations' Sustainable Development Goals 11 (Sustainable Cities and Communities), 12 (Responsible Consumption and Production), and 9 (Industry, Innovation and Infrastructure).

Disclaimer:
This registration information is being collected via Eventbrite. Eventbrite is not affiliated in any way with, or endorsed by, the National Academies of Sciences, Engineering, and Medicine, and your submission via the Eventbrite website is subject to Eventbrite's privacy and terms of use.