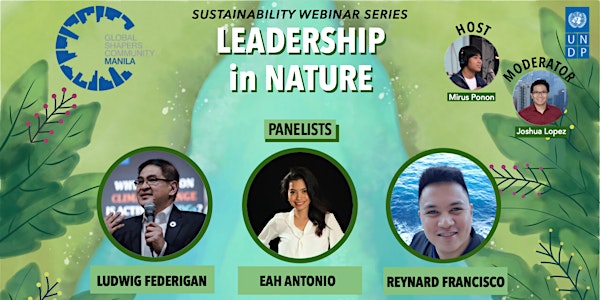 Sustainability Webinar Series: Leadership in Nature
Description
In celebration of the World Environment Day 2020 with the theme "Biodiversity," the Global Shapers Community Manila Hub has prepared the three-part Sustainability Webinar Series. Deviating from the norm, the webinar series would tackle the theme "Biodiversity" through the lens of youth leaders in celebration of their roles in creating solutions for sustainability.
The event envisioned to serve as a venue for showcasing how the three pillars, namely Leadership in Nature, Digital for Environment and Business for People and Planet that celebrate biodiversity. The event also aims to educate and strengthen the advocacy of youth groups across industries on the environment.
For the first series on May 22 under the Leadership in Nature Pillar, we will be discussing the role of government agencies, local government units, and youth leaders in biodiversity conservation that have a central role in tacking the destructive loss of biodiversity. What can we learn from their firm commitments on reinforcing rules and policies to protect our natural habitat?
This session will bring youth from different organizations across the Philippines to learn the practices and inspirations from the practitioners to their role in protecting the planet. Discussions will be centred around three overarching questions:
What can the youth learn from the challenges and opportunities of your role in biodiversity?

How can your role/industry share the message on World Environment Day?

How can your role encourage the youth to act for nature and advice those who are interested in exploring your role/industry?
Format:
The Sustainability Webinar Series will be split into three webinars, which will play through Zoom and Facebook live every Friday for three consecutive weeks starting May 22, May 29, and June 5, 2020. The online event will consist of a presentation and panel discussions regarding their industries' role and importance in the context of biodiversity, opportunities, and challenges faced and their envisioned future in biodiversity.
The session will run for 90 minutes. The program is as follows:
5:00 PM - 5:10 PM Welcoming of Attendees
5:10 PM - 5:20 PM Introduction to Global Shapers Community - Manila Hub
5:20 PM - 5:25 PM Introduction of Panelists
5:25 PM - 6:10 PM Panel Discussion
6:10 PM - 6:25 PM Open Forum, Live Q&A
6:25 PM - 6:30 PM Closing Remarks