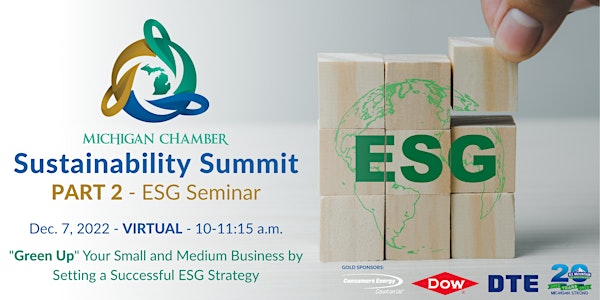 Sustainability Summit: Part 2 - ESG Seminar
This will help small and medium-sized businesses "green up" by assessing and setting successful environmental, social and governance targets
About this event

The wrap up of the Michigan Chamber's 2022 Sustainability Summit will take place with a Part II Seminar slated virtually for Wednesday, Dec. 7. This session is geared toward helping small and medium-sized businesses "green up" their business by assessing and setting successful environmental, social and governance (ESG) targets.
Agenda
10:00 a.m. Welcome
10:15 a.m. "Green Up" Your Small and Medium Business by Setting a Successful ESG Strategy
11:15 a.m. Conclude
As the cry for sustainable and inclusive growth grows louder, an increasing number of business leaders are embracing environmental, social, and governance (ESG) targets to meet customer and investor expectations. This session will help you understand the components of ESG, why an ESG strategy might be right for your business and how to build and benchmark ESG goals.