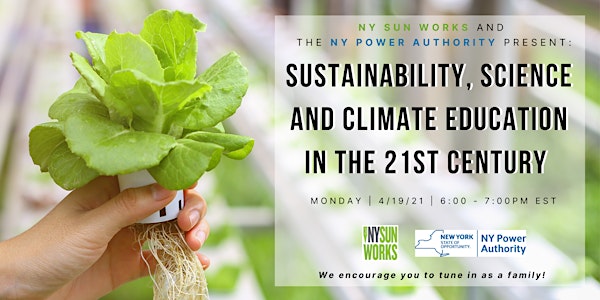 Sustainability, Science and Climate Education in the 21st Century
A workshop about hydroponics, renewable energy, and K-12 science and sustainability education in the 21st century.
About this event
Join the New York Power Authority's Environmental Justice Department and New York Sun Works for a virtual Earth Day celebration!
The event will focus on hydroponics, renewable energy and K-12 science and sustainability education in the 21st century. We invite students, teachers and parents to participate in the event, and we will have a "hands-on" group activity led by one of our distinguished panelists.
We hope to see you from 6pm – 7pm on April 19th for an engaging sustainability conversation discussing topics and trends happening within New York City, the state and the world around you!
Panelists:
Hannah Jaris - Director of Education Programs at NY Sun Works
Lielle Berman - Sustainability Senior Project Coordinator at NYPA
Debby Lee Cohen - Executive Director/ Founder of Cafeteria Culture
About New York Power Authority and Environmental Justice Program
The New York Power Authority is the nation's largest state public power organization, with 16 generating facilities and more than 1,400 circuit-miles of transmission lines. More than 70 percent of the electricity NYPA produces is clean renewable hydropower. NYPA is a leader in promoting energy efficiency, new energy technologies and electric transportation initiatives. Our lower-cost power production and electricity purchases support hundreds of thousands of jobs throughout the state.
NYPA's Environmental Justice (EJ) program is driven by our commitment to always be a good neighbor to the historically disadvantaged and marginalized communities located near our statewide facilities and assets. Community collaboration and engagement are the hallmarks of NYPA's EJ program. NYPA leverages its expertise in energy and energy technology to provide meaningful programs and services that meet the unique needs of our communities.
About NY Sun Works
NY Sun Works is a 501(c)(3) non-profit that builds innovative hydroponic science labs in public schools. Through their Greenhouse Project Initiative, now in 170 NYC public schools, K-12th grade students participate in every step of hydroponic farming from seed to harvest to eating what they grow while also learning STEM and environmental science through a standards-based Discovering Sustainability Science curriculum. NY Sun Works' leadership envisions a generation of environmental innovators, empowered to create solutions to global resource challenges. For more information, visit www.nysunworks.org and follow us @nysunworks.
About Cafeteria Culture
Cafeteria Culture (CafCu) is an environmental education organization working creatively with youth to achieve equitable zero waste, climate-smart school communities, and a plastic free biosphere.
Our youth programs merge citizen science and civic action with media and the arts. Students in our programs, overwhelmingly from lower-income communities of color, provide an urgently needed voice to the environmental movement by debating issues, collecting local data, designing and leading mini-pilots that can be scaled-up, educating policy makers, and taking on leadership and advocacy roles to accelerate solutions that address environmental justice and the plastic pollution/climate crises.