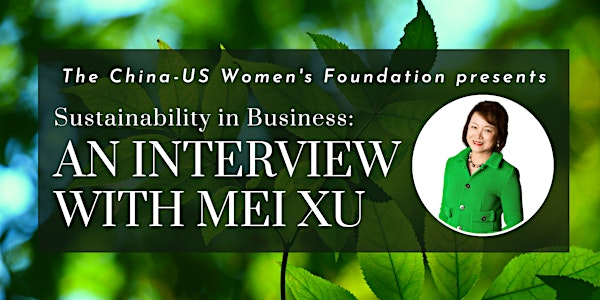 Sustainability in Business: An Interview with Mei Xu
In this exclusive interview with CUSWF, CEO Mei Xu will share her thoughts on sustainability and the world of business.
About this event
On October 20th, join us for our exclusive interview with Mei Xu, a Chinese-American entrepreneur, and the founder and CEO of two global companies, Yes She May, and Chesapeake Bay Candle®.
She is the author of the book, Burn, which details her journey from China to starting and growing a multi-million-dollar business in the U.S. You can listen to our podcast with Mei for her exciting book launch here.
In this discussion with CUSWF, Mei will be sharing her thoughts on sustainability and the world of business. She is uniquely positioned to share her experience and insights including running a global fashion website, building a global multimillion business, and supporting young women and entrepreneurs in the fashion world.
Here are some of the issues that sustainable business practices can help to alleviate include:
Climate change
Income inequality
Depletion of natural resources
Human rights issues
Fair working conditions
Pollution
Racial injustice
Gender inequality
However, it is not a simple case of switching out plastic packaging for cardboard packaging and calling it a day. It is important that businesses are committed to making positive changes, and continuously reflect on how they can improve.
We are excited to speak to Mei Xu, and to get an insight into her approach to sustainability within her businesses, and how her practices have changed over time as her career has developed. We hope that through this interview, we can encourage our audience to reflect on how they can be more sustainable in their own lives.
There will be time allotted for questions from the audience.
About Mei Xu
Mei Xu is a Chinese American entrepreneur, author and founder and CEO of two global companies, Yes She May and Chesapeake Bay Candle®. Xu successfully negotiated the sale of Chesapeake Bay Candle to Newell Brands in 2017, a conglomerate with a $14 billion portfolio of consumer goods. Mei is now focused on helping women-owned consumer product companies grow and prosper with e-commerce platform, Yes She May.
In June 2020, Mei created Yes She May (www.YesSheMay.com) to help women-owned brands survive and thrive. Her team aims to provide consumers a choice to shop from talented and thoughtful women vendors from around the world! Mei hopes to turn consumers into supporters and use their purses to show who they really care about.
In addition to fostering women's entrepreneurship, Ms. Xu also actively participates in impact investing and is a member of the Investment Committee of Halcyon Fund in Washington, DC and serves as a trustee of the University of Maryland, Baltimore.
Her business achievements have repeatedly been recognized by prominent organizations, such as Politico's 2019 Woman of Impact Award; Smart CEO with the Brava Award; and the Asian American Chamber of Commerce with the Business Leader of the Year Award.
We hope you will be able to join us!
Support CUSWF.org
When you donate to the China-U.S. Women's Foundation, you are joining a global community committed to helping women and girls to thrive.
We are focused on the SAGE Initiative: Social Medicine, Arts, Gender Equality and Education. Our programs focus on mentoring the next generation to rise and to help eradicate anti-Asian racism in America through education and engagement programs. Please donate here!