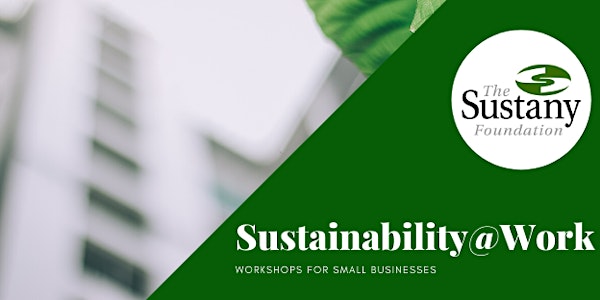 Sustainability for Small Businesses: Why your Start-up Should Go Green
Sustainability@Work is a series of practical workshops for start-ups and small businesses wanting to explore sustainable/green practices.
When and where
Location
Entrepreneur Collaborative Center 2101 East Palm Avenue Tampa, FL 33605
About this event
Sustainability for Small Businesses: Why your Start-up Should Go Green
It's no secret that more and more consumers are seeking to purchase from or do business with companies that are sustainable. But what does this mean for a small business or start up with a remote office and few (or one) employees?
Attendees will get an overview of what it means to be a sustainable business and an introduction to the three pillars of the Triple Bottom Line: People, Planet & Profit. We will address why it is important to consider implementing these practices in the start-up phase and how you can leverage these actions into greater cost savings, market share and profitability. We will discuss practical, simple, and low-cost sustainability tactics to get your business started without blowing your start-up budget. We will show you how to use these beginning steps as building blocks for a comprehensive sustainability/CSR plan so that it will be easy to scale up without starting from zero.
Topics Covered:
• What is a Sustainable Business?
• Where to start: simple, low cost actions for start-ups
• Why it matters: benefits of going green
• Where to get help and find resources
This session will provide an overview and introduce the core principles of a sustainable/socially responsible business. For those interested in going deeper, each principle will be explored in-depth over a series of 8 free workshops. Attendees are invited to attend one, a few, or all of the workshops. See schedule below: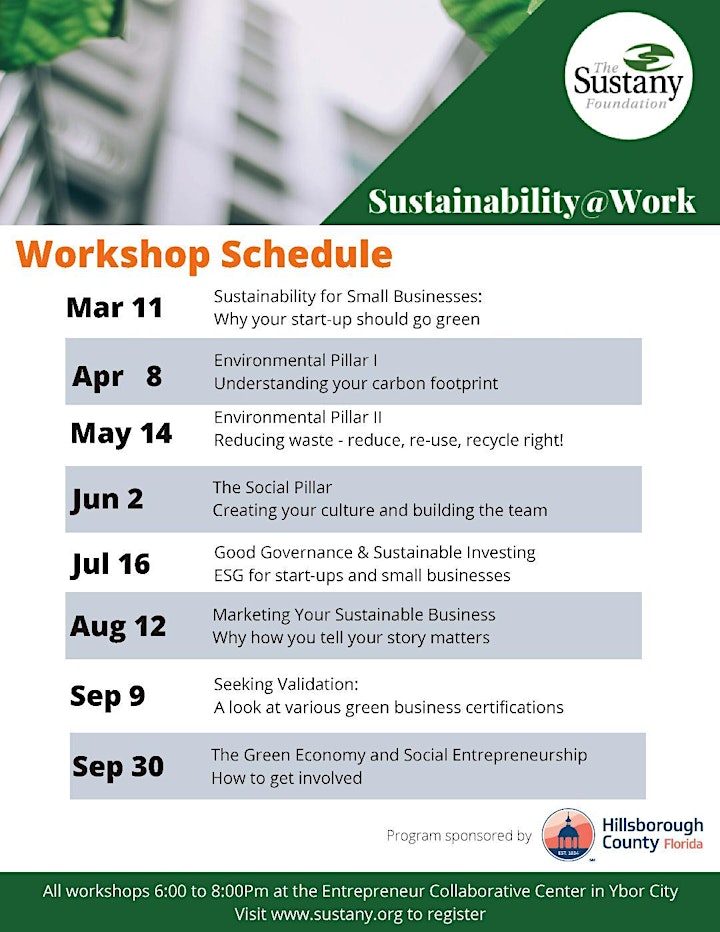 About the Program
Sustainability @Work is a series of workshops designed for start-ups and small businesses interested in learning more about how to become more sustainable and why it is not only important, but profitable. Each workshop will cover an important aspect of becoming a sustainable business.
The workshops are designed as stand-alone sessions and attendees may choose to attend one or all of them depending on their particular challenge or interest. The program is also designed to work as a cohesive series so a participant attending all sessions will be well prepared to create a comprehensive sustainability plan or work towards one of many certifications in the industry upon completion.
Attendees who are interested in pursuing a certification or getting a more formal assessment are eligible to apply for a free one-on-one consultation.
THIS PROGRAM IS MADE POSSIBLE WITH THE GENEROUS SUPPORT OF HILLSBOROUGH COUNTY GOVERNMENT