Sales Have Ended
Registrations are closed
Thank you for showing interest in our event! We apologize for any inconvenience caused as we have already sold all allocated tickets. Please periodically check back to see if any tickets open up for registration.
Sales Have Ended
Registrations are closed
Thank you for showing interest in our event! We apologize for any inconvenience caused as we have already sold all allocated tickets. Please periodically check back to see if any tickets open up for registration.
Description
Sustainability is now mission critical for businesses - and it's not longer just relevant to large companies but also to small-and medium-sized entities (SMEs).
Society is increasingly demanding that companies, both public and private, benefit all of their stakeholders, including shareholders, employees, customers, and the communities in which they operate. To be sustainable over time, every company must not only deliver financial performance, but also to embrace sustainability by showcasing how it is operating responsibly and ethically while making a positive contribution to society by responding to broader societal challenges. Indeed, the public expectations of companies and brands have never been greater.
For some, this will require a dramatic shift in business models, a re-orientated way of how we operate our business according to sustainable principles.
Join us on this Sustainability Day for a practical conversation on how to innovatively design and adopt best practices in sustainability into your business. Learn how you can benefit from greater efficiencies, lower costs, reduced risks and new opportunities for the digital age.
The event is co-organised by Digi and it's partners; Business Council for Sustainable Development Malaysia (BCSDM), Federation of Malaysian Manufactures (FMM), Telenor Group and UNICEF Malaysia

---
Opening Forum:

Sustainability, Foreshadowing Tomorrow's Business Today

Given the speed at which technologies are reshaping economies and societies, many businesses are navigating in a world they no longer recognize. A good place to start is by examining new business models that embrace disruption and accelerate sustainability priorities. How can businesses thrive in a sustainable ecosystem in which the company and its stakeholders will benefit from shared value creation and meaningful impact in the marketplace?
Hear from these corporate leaders on the frontline of the battle how they lead their enterprises to weather the storms of tomorrow and turn change into a competitive advantage.
---
Speaker Series:
1. Earning Trust and Loyalty through Zero Tolerance (Speaker: Digi Head of Compliance)
Brand trust is more important than ever, as customer expectations are increasing daily and competition is fierce. A brand's survival demands for organisations to operate at the highest standards of ethical business integrity. Find out more about some of the best practices in governance to ensure good corporate citizenship that meet the expectations of shareholders, customers and employees.
2. What's the Big Deal with Data Privacy in the Digital Age? (Speakers: Digi Privacy Specialists)
Recent news headlines about data security breaches have heightened consumers' awareness about the value of personal data and concerns about data privacy. More than ever, organisations today need to take a proactive and balanced approach to data security and privacy. Learn how to keep up with the increasing threats of privacy breaches and develop a strong data protection strategy in a new economy of privacy.
3. It's Necessary to Disrupt Your Own Supply Chain & Optimising the Workforce and Workplace
Our most fundamental responsibility as an employer is to keep all people who work for us safe from harm and exploitation. This means adopting high standards and ongoing capacity building in the areas of anti-corruption, labour rights and human rights within your upstream and downstream supply chain. Simultaneously, all your employees are entitled to work in a safe and healthy environment. Explore some innovative ways you can make a safer and healthier workplace environment towards a better workforce.
4. Yello! Digital Transformation: A possibility for everyone (Speaker: Digi Chief Business Officer)
As Malaysia gears up towards Industry 4.0 (I4.0), there is a need for corporates and SMEs to accelerate the adoption of digital technologies to boost growth. However, not many are realising the full potential of digitalisation or unfamiliar with the options available for smoother digital transformation. It is also important to dispel common misconceptions related to digitalisation so as to make innovation a key business approach. Come find out how you can foster the right business mindset to implement new technologies into business processes and overcome some of the transformation roadblocks.
5. Stay Near the Pool because a Business is Only as Good as the People You Employ (Speaker: Digi Head of Employee Experience)
Passionate employees and a strong talent pool are key success factors for any business, and that is why you have to continue building a culture that nurtures and retain strong talent. Find out how you can build an employer brand that advocates a balanced environment for an inclusive and agile culture.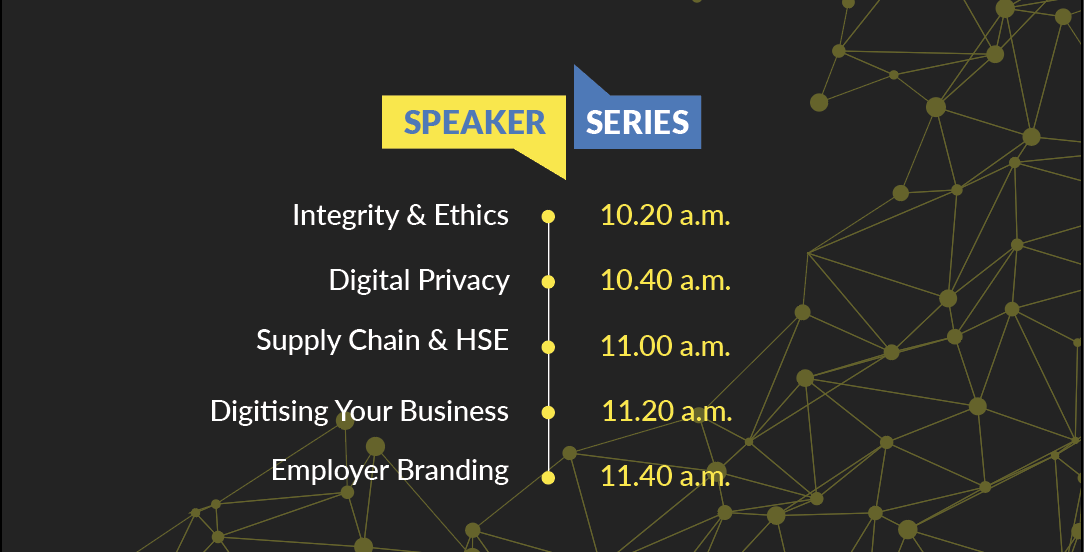 ---
Closing Forum:
Generation 4.0 – Understanding the Future Workforce

Companies have to simultaneously fill today's roles and plan for future ones. Many businesses are already feeling the challenge of attracting a digital-ready workforce in an ever-evolving business environment. How can strategically plan for a workforce for our digital future? Successfully acquiring, developing and deploying talent starts with a strategy that seeks to understand what Generation 4.0 or Generation Z, the cohort after the Millennials are learning and being exposed to today.
Talent, not technology, is the key to success in a digital future. Explore with our panel why the development of problem solving skills, social and emotional skills becomes a shared goal and much needed competency for the 21st century workforce.
Note: The event will end approximately at 1pm. Light refreshments will be served and shuttle services to the carpark will be provided. Thank you