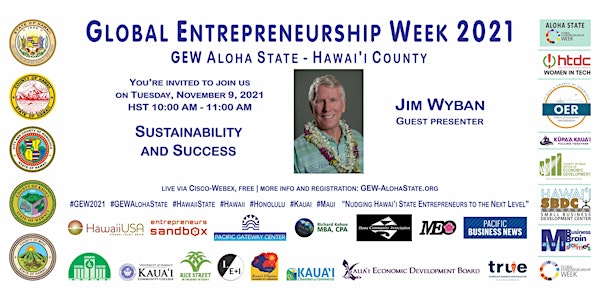 Sustainability and Success (GEW Aloha State - Hawai'i)
County of Hawai'i joins GEW Aloha State for the first time with this event, including a mayoral proclamation.
Date and time
Tuesday, November 9, 2021 · 12 - 1pm PST
About this event
SUSTAINABILITY AND SUCCESS
Across our entire state, we have a wealth of businesses focused on sustainability as part of their business plan. Join us as the County of Hawai'i hosts a panel of business owners, entrepreneurs, and innovators from the Island of Hawai'i who are working toward a more sustainable future for Hawai'i and the globe, while also making sure they grow as successful enterprises. No matter what island your business is on, you will learn business approaches and innovative techniques to make your business more sustainable too!
Guest presenter (bio below): Jim Wyban
ABOUT THE GUEST PRESENTER
Jim is a lifelong scientist-entrepreneur. After completing his PhD in fish genetics at UH, Jim developed his first fish farm in Hawai'i at Lokoea Fishpond in Haleiwa, blending modern aquaculture technology with traditional fishpond practices. He was recruited by Oceanic Institute to become the Principal Investigator of the USDA-funded US Marine Shrimp Farming Consortium where he first developed SPF shrimp (specific pathogen-free) and later moved to Kona to develop High Health Aquaculture (HHA) at NELHA to commercialize SPF technology worldwide. Over 18 years, HHA exported SPF broodstock to 26 countries which transformed the industry and resulted in a six-fold increase in global farmed-shrimp production. He is often called "the father of SPF shrimp" in the shrimp industry for his seminal work developing and globalizing SPF shrimp. After selling HHA in 2012, Jim wanted to give back to the Hawai'i Island community, so he founded HIplan, an educational non-profit focused on building the Entrepreneur Ecosystem on Hawai'i Island. HIplan has convened 5 annual business plan competitions with over 200 Hawaii Island companies, including over half Ag-businesses. HIplan's newest initiative is to convene an international conference called the Tropical AgTech Conference to be held on June 22-23 2022 at UH Hilo.
SPONSORS , SUPPORTERS
State of Hawai'i - Office of the Governor David Y. Ige
County of Hawai'i - Office of the Mayor Mitchell D. Roth
City and County of Honolulu - Office of the Mayor Rick Blangiardi
County of Kaua'i - Office of the Mayor Derek S.K. Kawakami
County of Maui - Office of the Mayor Michael P. Victorino
HawaiiUSA Federal Credit Union (HawaiiUSA FCU)
Entrepreneurs SANDBOX
Pacific Gateway Center
RJK LLC (Richard Kehoe, MBA, CPA)
Hāna Community Association
Maui Economic Opportunity (MEO)
Pacific Business News (PBN)
Hawai'i Technology Development Corporation (HTDC)
Office of Economic Revitalization (OER) of the City and County of Honolulu
Kūpa'a Kaua'i
Maui County Business Resource Center (MCBRC)
Hawai'i Small Business Development Center (HI SBDC)
Maui Business Brainstormers (MBB)
Global Entrepreneurship Week (G.E.W)
Global Entrepreneurship Network (GEN)
Grants Central Station (GCS)
Kauaʻi Community College
Rice Street Business Association
Lady Entrepreneurs and Innovators L.E.I.
Kauaʻi Filipino Chamber of Commerce
Kauaʻi Chamber of Commerce
Kauaʻi Economic Development Board (KEDB)
Technology Readiness User Evaluation (TRUE)