Sustainability and Promotion of Long-term Investing
Description
IMPORTANT MESSAGE: Registration for this seminar is now closed although walk-ins will be accommodated first-come, first-served, based on seat availability.
CJEB welcomes you to a lunchtime "zadankai" seminar:
Sustainability and Promotion of Long-term Investing:
The Role of Investors and the Stock Exchange
Thursday, March 28, 2019 | 12:30-1:45 PM
Room 332, Uris Hall, Columbia Business School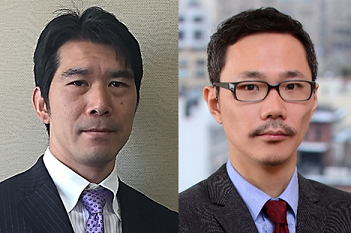 Featuring:
Ryota Kimura
Chief Representative & General Manager,
New York Representative Office,
Japan Exchange Group, Inc.
Shin Furuya
Impact Investment Strategist,
Domini Impact Investments LLC
Moderator:
Alicia Ogawa
Director, Project on Japanese Corporate Governance and Stewardship,
Center on Japanese Economy and Business, Columbia Business School
What you'll learn:
What is the evidence that using ESG (Environmental, Social and Governance) analysis will improve investment return?

What have been the factors driving the growth of the ESG investment industry?

What is the role of the government, service providers, NGOs, and the stock exchanges in encouraging more sustainable investment?

Biographies:
Ryota Kimura is a Chief Representative & General Manager of New York Representative Office, Japan Exchange Group, Inc. (JPX), Tokyo Stock Exchange, Inc. (TSE), and Osaka Exchange, Inc. (OSE). The New York office led by Mr. Kimura is responsible for promotion activities related to all products listed on TSE and OSE, such as cash equity products, fixed income products and derivatives products, as well as research activities regarding the securities and derivatives markets in the US.
Prior to his current role, Mr. Kimura was a Head of Product Development, New Listings Department based in Tokyo, Japan. The team was responsible for developing listing rules for structured financial products, such as exchange traded funds (ETFs), exchange traded notes (ETNs), real estate investment trusts (REITs), TOKYO PRO-BOND Market (TPBM), and etc. as well as promoting these structured financial products to the TSE market.
Previously, Mr. Kimura was Senior Manager of Financial Planning, Treasury Department at Tokyo Stock Exchange Group, Inc. for five years and he spent six years at TSE's Stock Market Department and led the development of trading rules and regulations for cash equity products including ETFs and REITs.
Mr. Kimura received his MBA from the Darden School at University of Virginia (USA) and his BA in Economics from Waseda University (Japan).
Shin Furuya joined Domini in 2006. He is a member of the Domini Funds Investment Committee, which is responsible for the review and approval of potential investments. He also leads and contributes in setting the standards and policies as a member of Domini's Standards Committee, providing guidance regarding overall ESG issues and strategies. He helps advise and coordinate the overall research process. He also actively engages with companies, civil society organizations and governments on wide-range of thematic and sector-specific issues. In addition, he leads and oversees Domini's proxy voting practices as well as contributing to the revisions of the proxy voting guidelines. Prior to his current role, Mr. Furuya served as Vice President, Responsible Research & Engagement Specialist, leading Domini's research processes, development and reviewing the industry key performance indicators as well as actively engaging with various stakeholders.
Mr. Furuya is a member of the advisory board of the EIRIS Conflict Risk Network, a network of over 70 institutional investors focusing on challenges regarding the conflict-affected and high-risk areas (CAHRAs), and an advisory consultant for T&D Asset Management, the asset management division of a leading Japanese insurance group focused on ESG integration. He also represents Domini as a member of the Thirty Percent Coalition, a multi-stakeholder advocacy group to increase gender diversity in the corporate boardroom. In 2015, he was named among the 'Most Influential Environmental Investors' by the Journal of Environmental Investing.
Prior to joining Domini, Mr. Furuya was a research analyst for the Investor Responsibility Research Center, and a lead researcher for Institutional Shareholder Services. He also worked as national coordinator for the Economic Relations and Human Rights Program and the Refugee Program at Amnesty International Japan, where he managed two national programs.
Mr. Furuya holds a B.A. in political science and international studies from the University of Oregon, an M.A. in international relations with a focus on global markets and politics, and a certificate of advanced studies in environmental dispute resolution from the Maxwell School of Citizenship & Public Affairs, Syracuse University.

Lunch will be served. Advance registration is required.
General Contact: cjeb@gsb.columbia.edu.

Please kindly note the following:
Registration will begin at 12:00 pm. All guests must be seated by 12:30 pm.

Please arrive early as seating will be filled on a first-come, first-served basis. The registration does not guarantee your admission.

Your presence at this event indicates your willingness to appear in any photos or videos produced by Columbia and by third parties preapproved by Columbia. If this is an issue, please let us know. Thank you.
Organizer of Sustainability and Promotion of Long-term Investing
Established at Columbia Business School in 1986 under the direction of its chairman, Professor Hugh Patrick, and led currently by its director, Professor David E. Weinstein, the Center on Japanese Economy and Business (CJEB) promotes knowledge and understanding of Japanese business and economics in an international context. CJEB is a research organization widely recognized for its vigorous research activities, international symposia, conferences, and lectures, held in New York City and Tokyo, which provide prominent speakers from the public and private sectors a forum for collaboration and reflection on Japan, the United States, and the global economy. For more information visit www.gsb.columbia.edu/cjeb. For more information, go to http://www.gsb.columbia.edu/cjeb