A panel discussion on sustainability and diversity within stakeholder capitalism from global and Japanese perspectives.
About this event
Join enjoi and SIVENTH on June 21st at 7PM JST for a panel discussion on sustainability and diversity within stakeholder capitalism from global and Japanese perspectives. The event will start with keynote addresses by Ken Shibusawa, CEO of Shibusawa and Company, and great grandson of Eiichi Shibusawa, the father of Japanese capitalism, and Emi Onozuka, COO of Japan Catalyst leading the way for impact-driven ESG Investing in Japan.
The panel discussion moderated by Trista Bridges (Founder of Read the Air) includes Ken Shizusawa, Emi Onozuka, and Dr. Jackie F. Steele, political scientist and CEO of enjoi Diversity & Innovation Consulting.
Trista Bridges
Trista is a strategy and sustainable business strategist, who's passionate about changing business for good. Strongly believing that sustainable business = smart business, she co-founded Read the Air to shift mindsets, business strategies, and ways of working towards business models that put sustainability at the core. Her extensive career experiences span various geographies, from Europe to the Americas and Asia, and sectors including consumer products, media and tech, healthcare, and financial services. Trista is co-author of the recently released "Leading Sustainably: The path to sustainable business and how the SDGs changed everything". Trista is the Strategy and Sustainability Advisor for SIVENTH.
Ken Shibusawa
Ken Shibusawa founded in 2001, Shibusawa and Company, Inc., a strategic advisory firm for alternative investments, ESG/SDGs alignment and human resource development. He also founded in 2008, Commons Asset Management, a mutual fund dedicated to deliver long term investment opportunities to the Japanese household. He has extensive market experience at JP Morgan and Goldman Sachs as well as Moore Capital, a global macro hedge fund, where he was the representative managing director of the Tokyo Office. He is also director of Keizai Doyukai (Japan Association of Corporate Executives), advisor to the Office of the President, University of Tokyo, and a steering committee member of UNDP SDG Impact.
He is a published author and writes frequently for magazines, journals, and internet media. He also publishes and hosts of a podcast, Made With Japan https://madewithjapan.net/
He was educated in the United States from second grade elementary through college (University of Texas, BS Chemical Engineering, 1983), and then returned again for graduate school (University of California Los Angeles, MBA, 1987).
Emi Onozuka
Emi held various roles at Goldman Sachs Asset Management during her twenty years at the firm (2000-2020). Since 2016, she headed the Stewardship Responsibility Group in GSAM Japan leading research in ESG (Environment, Social and Governance) and conducted company research and engagements with over 200 companies each year.
Emi is active in industry initiatives and holds a position as the Chair of the Steering Committee for Japan Stewardship Initiative (JSI), Co-Champion of Tokyo Chapter for Sustainable Accounting Standard Board (SASB) Fundamentals of Sustainable Accounting (FSA) Network and on a judging panel for the World Intellectual Capital/Assets Initiative (WICI) for its annual report award. Currently, she is a part of Expert Panel on Sustainable Finance established by Japan Financial Services Agency.
Before joining Goldman Sachs, she was at JP Morgan since 1998 and received a B.A. from the Sophia University in 1997, majoring in International Business and Economics. Emi is a candidate for the graduate degree (Management of Technology) at Tokyo University of Science.
Dr. Jackie F. Steele
As a trilingual, Canadian political scientist, author, and Japan resident for over 20 years, Jackie has taught diverse citizenship and public policy at leading universities in Canada and Japan. As CEO of enjoi Diversity & Innovation, she shares expertise on diverse citizenship, inclusive decision-making, public policy and diverse talent mobilization with global leaders. For 25 years Jackie has been guiding organizations and policy leaders on sustainable solutions and technical ecosystem designs that place diversity, gender equality, and inclusive innovation at the heart of organizational culture.
Jackie teaches disaster risk governance in the Graduate School of Global Environmental Studies, Sophia University and lectures at various universities across APAC (ICU, Stanford, Hiroshima University etc). In her volunteer life, she is co-President of the not-for-profit global women's association FEW Japan, she leads the Global Diversity Management Committee and is a Governor with the Canadian Chamber of Commerce and she is the Strategic Advisor of WomEnpowered International (UTokyo). Bridging to feminist business activism for ESG investing and the SDGs, Jackie is an angel investor supporting women-led ventures through SheEO Canada, and serves on the Executive Advisory Group of the Canadian Women's International Network (CanWIN).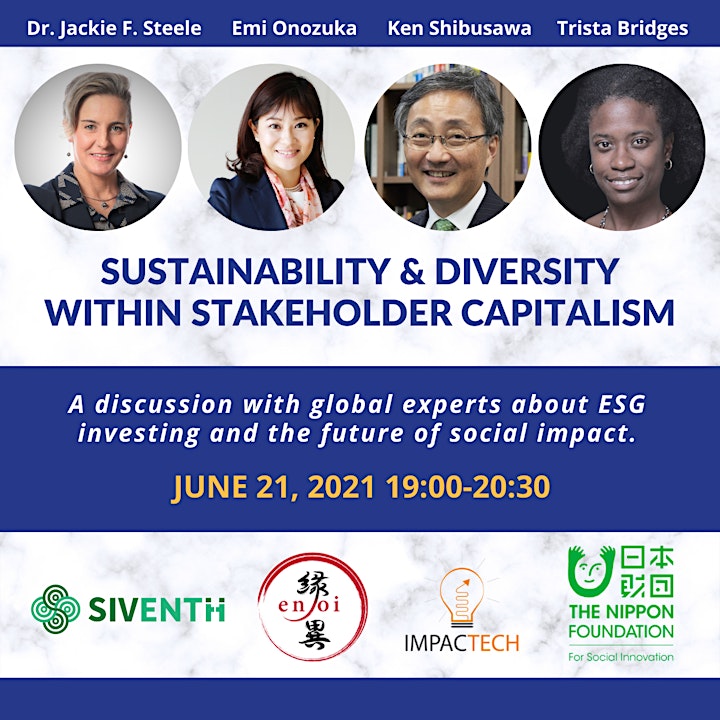 Organizer of Sustainability and Diversity within Stakeholder Capitalism