Sales Have Ended
Registrations are closed
Thanks for registering don't forget to keep your tickets handy, either in the Eventbrite app or print them out and bring them with you.
Sales Have Ended
Registrations are closed
Thanks for registering don't forget to keep your tickets handy, either in the Eventbrite app or print them out and bring them with you.
Description
Sustainability: A Way to Abundance
Abstract:
This presentation is essential to the goal of sustainability that all sectors are involved and the sustainability aspects are captured from as many point of views as possible.
The presentation will focus on the following topics; among others:
• Concept of sustainability and abundance driven by the constant energy flux coming from the sun.
• Actions linked to human Environmental disruption such a pollution, unsustainable practices that are linked to a decreased energetic state of the planet through a decay of the chemical state of the elements composing the biosphere.
• Energy sustainability applied to the resources of the planet will be discussed. In addition, the presentation will illustrate how technology will be capable to respond to mankind demand for a more affluent life and include plenty of access to nature as a key criterion for this affluence and reinstatement of the Earth energy abundance.
Finally the presentation will also describe essential economics of sustainability and demonstrate the economic feasibility of the new wave of economic development.
About speaker: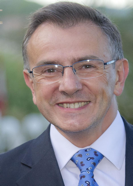 Dr. Corrado Sommariva,
corrado.sommariva@ilf.com
Dr. Sommariva is Managing Director and member of the board of ILF Consulting Engineers Middle East.
Dr. Sommariva has a PhD in Chemical Engineering from Genoa University and a Diploma in Management from Leicester University.
In November 2013 Dr. Sommariva was conferred an honorary degree by Herriot Watt University in recognition to his contributions to chemical engineering.
He is an honorary Professor at Genoa and L'Aquila Universities where he holds regular courses on water treatment, energy efficiency, desalination and economics.
He has published over 80 papers on various leading edge technical research and economics and published two books on water management and economics.
Dr Sommariva co-authored the book Water, Energy & Food Sustainability in the Middle East : The Sustainability Triangle.
Dr. Sommariva was the President of IDA for the term 2011-2013, served as Co-Chairman of the Technical Program for the 2009 IDA World Congress in Dubai and Chairman of IDA's recently held conference, "Desalination Industry Action for Good," a landmark event held in Portofino, Italy that focused on water and social responsibility.
Along with his company ILF Dr. Sommariva was engaged in the development of the largest Photovoltaic project in the GCC at His Highness Mohammed bin Rashid Al Maktoum Solar Park and he was one of the promoters of the unique program for sustainable desalination that was launched by MASDAR in Ghantoot.
Dr. Sommariva has been President of the European Desalination Society (EDS) and chairman of the World Health Organization's committee for the establishment of safe drinking water.
In May 2014 Dr. Sommariva has been conferred by the President of Italy the title of "master of work" along with the cross of merit for his work distinguished contribution and career.


Check us out on Facebook:
https://www.facebook.com/events/172101530033834
Date and Time: Friday 27 October, 4:00pm to 5:00pm.

Venue: Heriot-Watt University Dubai
Date and Time
Location
Heriot-Watt University Dubai Campus
Dubai International Academic City
Dubai, Dubai 294345
United Arab Emirates