About this Event
Sustain Dane and Edgewood College invite you to be part of the 2019 Sustain Dane Summit: Regenerate for Wellbeing. Gain new knowledge and skills, strengthen relationships with a local community of peers, and work together to identify ways to co-create regenerative culture and actions that bring together ecological sustainability, social equity, community wellbeing, and leadership in our organizations and in the region.
• Learn how others around the world, country, and region are engaging in this work.
• Deepen our understanding of community wellbeing and regenerative culture and actions as the goal of ecological sustainability, social equity, and leadership.
• Connect and join the expanding community of changemakers.
Now in its eleventh year, the Sustain Dane Summit is the annual sustainability program to attend. The Sustain Dane Summit brings together professionals, students, activists, neighbors, and community members. The interactive program has become an unparalleled forum to connect, share ideas, reflect, and learn new skills to lead and inspire change.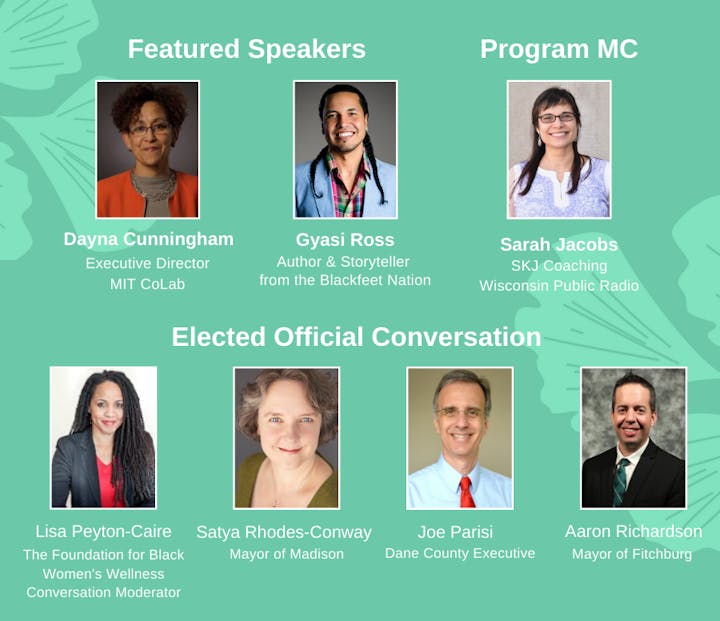 • Dayna Cunningham, Executive Director of Community Innovators Lab (CoLab) at MIT University and Board/Core-Team USA member of the Presencing Institute (Theory U).
• Gyasi Ross, author and storyteller from the Blackfeet Nation. Ross is the author of Don't Know Much About Indians (but I wrote a book about us anyways) (2011) and How to Say I Love You in Indian (2014).
• Elected Official conversation between Mayor of Madison Satya Rhodes-Conway, Dane County Executive Joe Parisi, and Mayor of Fitchburg Aaron Richardson. Moderated by Lisa Peyton-Caire, Founder & President, The Foundation for Black Women's Wellness and Founder/Host of Black Women's Wellness Day.
• Master of Ceremonies Sarah Jacobs from Wisconsin Public Radio and Professional and Personal Growth Coach at SKJ Coaching.
Full agenda and program will be released online prior to the event.
ADDITIONAL INFORMATION:
Continuing Education - Participants can earn continuing education units as part of their attendance at the Sustain Dane Summit. For further information please contact Steve Gilchrist at sgilchrist@edgewood.edu or Carrie Sanders at csanders@ edgewood.edu.
Scholarships - Is the ticket cost a barrier for you? Full or partial scholarships are available. Please contact jenna@sustaindane.org to learn more.
Sponsorship - Consider sponsonsoring the Sustain Dane Summit. Learn about Sponsorship Opportunities (pg 4 & 5).
2018 Summit Highlights - Enjoy a look at last year's Summit Highlights
Thank you to our 2019 sponsors: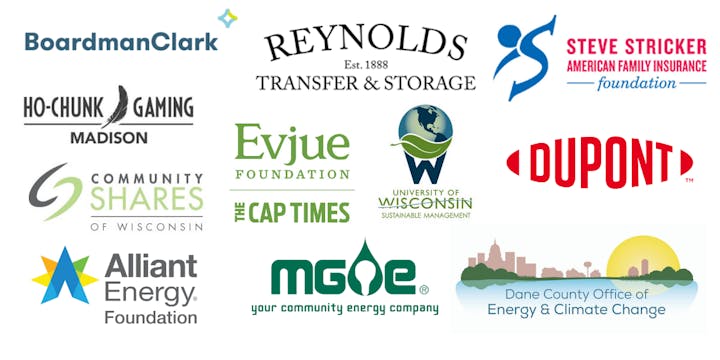 Affiliated Engineers, Aldo Leopold Nature Center, Artisan Dental, CG Schmidt INC, City of Madison, Clean Fuel Partners, Clean Lakes Alliance, Dean HealthCare, EZ Office Products, Findorff, First Weber, GHC-SCW, Home Savings Bank, Insty Prints (Now Allegra Madison), Madison Concourse Hotel, Madison, No Fear Dentistry, Nordic Consulting Partners, Palmer Johnson Power Systems, Promega, Strang, TDS Custom Construction, University of Wisconsin Sustainable Management, UW Credit Union, UW-Madison Office of Sustainability, Wegner LLP, WI Environmental Initiative, Zendesk