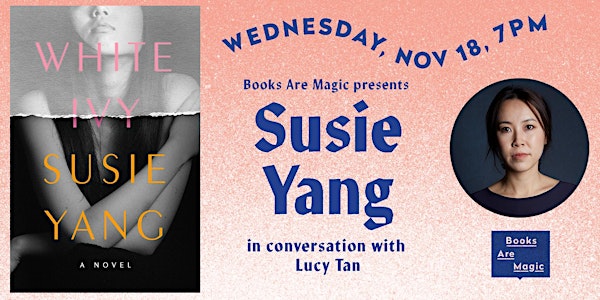 Susie Yang: White Ivy w/ Lucy Tan
Susie Yang celebrates her Center for Fiction First Novel Prize–longlisted novel WHITE IVY, in conversation with Lucy Tan!
Refund Policy
Contact the organizer to request a refund.
About this event
Community Guidelines:
By registering for this event, you agree to be respectful towards authors and other audience members and to refrain from inappropriate or disruptive behavior and/or harassment of any kind including, but not limited to: hate speech, spam comments, slurs, obscenities, etc. Any attendees who violate these community guidelines will be immediately ejected from this event and barred from attending all future Books Are Magic events.
To request accessibility accommodations, please contact assistant@booksaremagic.net.
From prizewinning Chinese American author Susie Yang, this dazzling coming-of-age novel about a young woman's dark obsession with her privileged classmate offers sharp insights into the immigrant experience.
Ivy Lin is a thief and a liar—but you'd never know it by looking at her.
Raised outside of Boston, Ivy's immigrant grandmother relies on Ivy's mild appearance for cover as she teaches her granddaughter how to pilfer items from yard sales and second-hand shops. Thieving allows Ivy to accumulate the trappings of a suburban teen—and, most importantly, to attract the attention of Gideon Speyer, the golden boy of a wealthy political family. But when Ivy's mother discovers her trespasses, punishment is swift and Ivy is sent to China, and her dream instantly evaporates.
Years later, Ivy has grown into a poised yet restless young woman, haunted by her conflicting feelings about her upbringing and her family. Back in Boston, when Ivy bumps into Sylvia Speyer, Gideon's sister, a reconnection with Gideon seems not only inevitable—it feels like fate.
Slowly, Ivy sinks her claws into Gideon and the entire Speyer clan by attending fancy dinners, and weekend getaways to the cape. But just as Ivy is about to have everything she's ever wanted, a ghost from her past resurfaces, threatening the nearly perfect life she's worked so hard to build.
Susie Yang was born in China and came to the United States as a child. After receiving her doctorate of pharmacy from Rutgers University, she launched a tech startup in San Francisco that has taught 20,000 people how to code. She has studied creative writing at Tin House and Sackett Street. She has lived across the United States, Europe, and Asia, and now resides in the UK. WHITE IVY is her first novel. In a seven way bidding war, WHITE IVY was just optioned by Netflix for Shonda Rhimes to Executive Produce through her company Shondaland. The project will be developed as a limited series. Photo credit: Onur Pinar Photography
Lucy Tan grew up in New Jersey and has spent much of her adult life in New York and Shanghai. She received her B.A. from New York University and her M.F.A. from the University of Wisconsin-Madison, where she was awarded the 2016 August Derleth Prize. Her fiction has been published in journals such as Asia Literary Review and Ploughshares, where she was winner of the 2015 Emerging Writer's Contest. What We Were Promised is her first novel.