Description

Sushi Rolling Workshop with Red's Best
Presented by The Trustees
Join us in The KITCHEN at the Boston Public Market for a culinary exploration that celebrates New England fishermen and the fresh seafood they pull daily from cold Massachusetts waters. This hands-on workshop is hosted in partnership with Red's Best and will be paired with wine tastings from the Massachusetts Wine Shop.
The Sushi Rolling Class will teach participants to prepare and roll their own raw seafood sushi rolls using the freshest, local and sustainably-caught tuna and salmon. Our expert sushi chef will guide participants through the techniques and tricks to crafting the perfect sushi roll. Participants will create and eat two different sushi rolls using Red's Best seafood and produce from the Boston Public Market + will create a traditional Japanese salad to round out the meal.
Guided by Chef Jen - a former sushi chef at Legal Harborside - you'll learn about local seafood and the proper techniques for rolling sushi, along with how to shop for the right ingredients to replicate these techniques at home. Every attendee will take home their sushi rolling mat to reuse at home.
In addition to learning a new cooking style, you'll enjoy tastes of three local New England wines that pair perfectly with recipes we'll be making, courtesy of The Massachusetts Wine Shop.
Dates:
Friday, April 12 from 6-8 pm
Friday, May 31 from 6-8 pm

Friday, June 14 from 6-8 pm
Menu:
Salmon Maki using fresh salmon from Red's Best and local veggies from Stillman's Farm
Tuna Maki using fresh tuna from Red's Best and local veggies from Stillman's Farm
Traditional Japanese salad with cucumber and ginger with a handmade dressing
Unfortunately, we cannot accommodate vegetarian or vegan requests; however, we can make this menu gluten free. Please email kitcheninfo@thetrustees.org to request a gluten free option or to inquire about allergies. Please note that The KITCHEN is not a gluten-free or allergy-free facility and that there is always a slight risk of cross-contamination.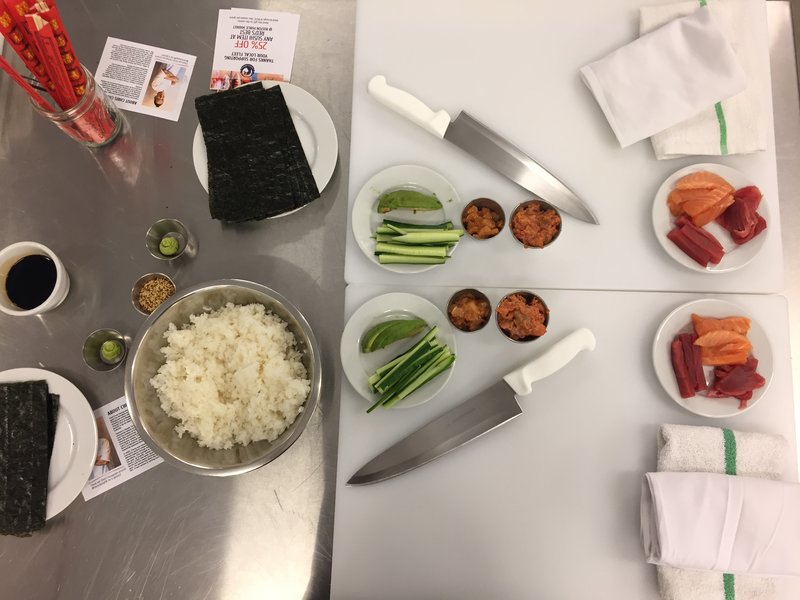 Our hands-on cooking classes are structured as a group learning experience; you'll work with other students to create a seasonal meal led by our professional chef instructors. We focus on learning new cooking styles and techniques to increase your confidence and enjoyment in your own kitchen. Here are a few things to know before booking a class with us:
Each class is centered on the local, seasonal farmers and artisans of the Boston Public Market, so menus may change slightly based on what's available the day of the event.
During each class, you'll learn 2 or 3 recipes, you'll work with between 2 and 4 other students to create each one, and you'll enjoy a plentiful taste of each.
Classes are usually between 2 and 2.5 hours long, unless otherwise noted.
Please be prepared to be on your feet, standing at a table, and cooking for the duration of class.
We recommend comfortable, non-slip, and closed-toe shoes.
Tickets: $68 for Trustees member and $85 for Non-Trustees Members. Members must bring their current member card and number. Join The Trustees and save! Members save between 20-40% off all classes in The KITCHEN.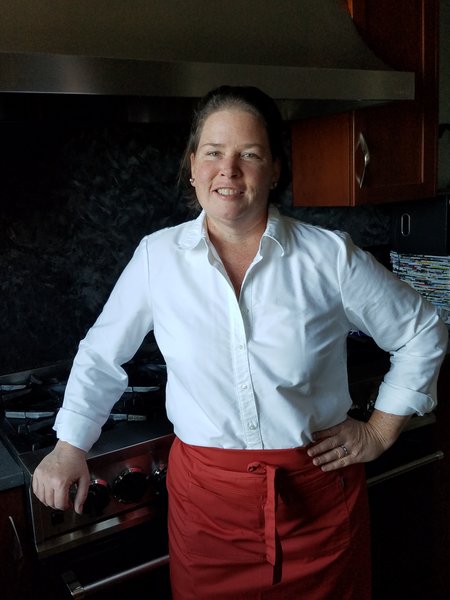 About Chef Jennifer Heilig
Jennifer Heilig is a trained chef, culinary educator, and owner of For The Table cooking school. She has cooked professionally for over 15 years. Jen teaches group, private, and corporate cooking classes in and around Boston, Massachusetts. Cooking has been Jen's lifelong passion. After graduating from Smith College, she dove into the kitchen life as the personal chef for a college president for several years. Work in the business world followed, but cooking remained a central part of her life, and she eventually left her desk job to focus on food. She graduated from the Cambridge School of Culinary Arts with high honors and received the school's Julia Child Award. She has worked at a number of restaurants in and around Boston and on Cape Cod, including Legal Harborside and State Street's executive dining room. Jen founded For The Table cooking school to bring hands-on classes to home cooks of all levels. Her mission is to help people enjoy cooking and to cook at home more often. Her classes range from cooking techniques and fundamentals to ingredient- and cuisine-focused favorites. She is proud to be part of the Boston Public Market community and to teach and cook in The KITCHEN with the fresh, local bounty of New England.
About The Trustees and The KITCHEN
As one of the largest owners of agricultural land and the premier steward of the cultural and natural landscape of Massachusetts, The Trustees extends its leadership to transform the local food system by connecting residents and visitors back to the land and sharing the Commonwealth's collective agrarian heritage through innovative retail and educational experiences at the Boston Public Market in the heart of downtown Boston.
The KITCHEN is a community gathering place, managed by The Trustees, that is restoring the craft of seasonal cooking in Massachusetts, New England, and beyond through hands-on classes and educational experiences that celebrate the farmers and artisans of this region. Partnered with the Boston Public Market, The KITCHEN embraces a whole-food approach to eating and promotes cooking as an essential cornerstone of a sustainable food system.
Join the Trustees and recieve discounts on KITCHEN events. Join here.