Description

Sushi Rolling Workshop with Red's Best
Presented by The Trustees
Join us in The KITCHEN at the Boston Public Market for a culinary exploration that celebrates New England fishermen and seafood and Massachusetts wineries. This event is hosted in partnership with Red's Best and will be paired with wine tastings from the Massachusetts Wine Shop.
The Sushi Rolling Class will teach participants how to roll their own raw seafood sushi rolls using the freshest, local and sustainably-caught tuna and salmon. Our expert sushi chef will guide participants through the techniques and tricks to crafting the perfect sushi roll. Participants will create and eat three different sushi rolls using Red's Best seafood and produce from the Boston Public Market.
While you're feasting on the finest seafood New England has to offer, the Boston Public Market's local wine expert will pour tastes of three different wines from local Massachusetts wineries.
Sushi Rolling Workshop
Wednesday, July 19
6:00-8:00 pm
The KITCHEN at The Boston Public Market
100 Hanover Street
Boston, MA 02108
Costs: $60 per Trustees member and $75 per nonmember. Members must bring their current member card and number. Join The Trustees and save! Members save between 20-50% off all classes in The KITCHEN. Join here.
This is a hands-on class, so prepare to get your hands dirty! Please RSVP in advance. We are limiting the class to 24 people, so it will sell out.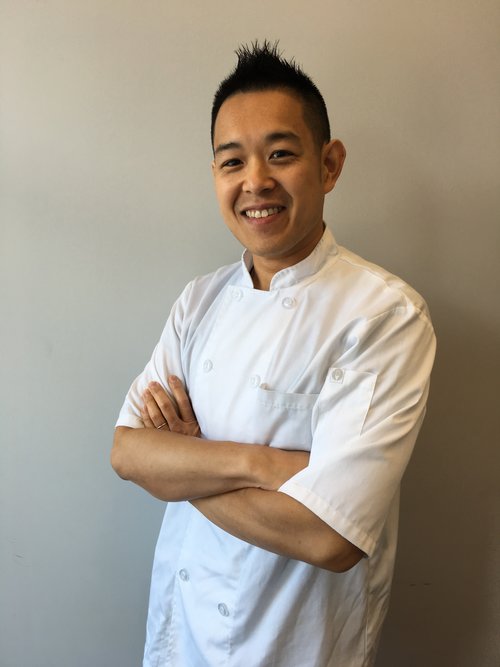 About the Chef
Chef Chris Chung was born in Honolulu, Hawaii. He spent his formative years in Macao, China, a Portuguese colony with east and west influences. Growing up in a family of restaurateurs and hoteliers, Chung's love of cooking came naturally and Macao proved to be an ideal breeding ground for his culinary curiosity.
Trained in Hawaii, Chung worked in various Japanese restaurants before moving to Boston in 2004, when he took the position of Executive Chef at Ken Oringer's Back Bay sashimi bar, Uni. Combining his extensive résumé and personal experience in both Asian and Portuguese cuisine, Chung built an award-winning menu full of unusual ingredients and adventurous flavor combinations, elegant presentations and beautifully balanced flavors.
In 2009, Chung was named Rising Star Chef for his innovative sashimi creations. He has mastered this delicate balance through the careful combination of ingredients. One example is his spicy tuna tataki with foie gras, aji amarillo, spiced strawberries and cumin cilantro, a dish that twists Spanish and Japanese flavors with the classic techniques of working with foie gras. He opened Aka Bistro the same year in Lincoln, MA. A new venture is coming soon this year.

About The Trustees and The KITCHEN
As one of the largest owners of agricultural land and the premier steward of the cultural and natural landscape of Massachusetts, The Trustees extends its leadership to transform the local food system by connecting residents and visitors back to the land and sharing the Commonwealth's collective agrarian heritage through innovative retail and educational experiences at the Boston Public Market in the heart of downtown Boston.
The KITCHEN is a community gathering place, managed by The Trustees, that is restoring the craft of seasonal cooking in Massachusetts, New England, and beyond through hands-on classes and educational experiences that celebrate the farmers and artisans of this region. Partnered with the Boston Public Market, The KITCHEN embraces a whole-food approach to eating and promotes cooking as an essential cornerstone of a sustainable food system.
Join The Trustees and receive 20%-50% off all classes, workshops, and events at The KITCHEN and all Trustees properties.