Party in your bedroom, living room, or even rooftop! Join New York City's vibrant queer nightlife creatures from anywhere in the world.
About this Event
MUSIC:
Aquaria
Amber Valentine
Tom Peters (LIVE from Berlin)
HOSTS:
Amanda Lepore
Suburbia
Adventure Dave
The CT
Chlamydia
Jeffrey Scott
Kiss
Linux
Lola Von Rox
Mateo Palacio
Muffy
Radical Pom
Ryan Burke
Vito Fun
Your personal ZOOM room code will be sent directly to your email at 6:30PM and 9:00PM on the night of Thursday April 16.
Questions/Inquiries: OnTop@bartschland.org
AT HOME HOUSE BALL
CATEGORY 1
BEST WIG (RAPUNZEL REALNESS)
CATEGORY 2
BEST IN BED/ PAJAMA LOOK
CATEGORY 3
ALL DRESSED UP WITH NOWHERE TO GO
CATEGORY 4
DANCE THE HOUSE DOWN
PRIZES INCLUDE NARS QUEEN OF THE NIGHT EYESHADOW PALETTE, VEUVE CLICQUOT CHAMPGNE, AND MORE SURPRISES!
SPECIAL THANKS: Slobodan Randjelovic
IMPORTANT INFO:
If you can't do the 10$ ticket and you want to join our party, YOU CAN DONATE ANY $ amount that's comfortable for your budget. This is to support our Nightlife community Dj's, Hosts, Performers, as well as to have fun and connect in this insane and difficult time for all of us!
Susanne Bartsch is New York City's patron saint of transformation and inclusion. The parties she's thrown for three decades—from Paris to Tokyo—have provided a venue for countless creative souls and "creatures" to express themselves, come together and forget the hum-drum of the everyday.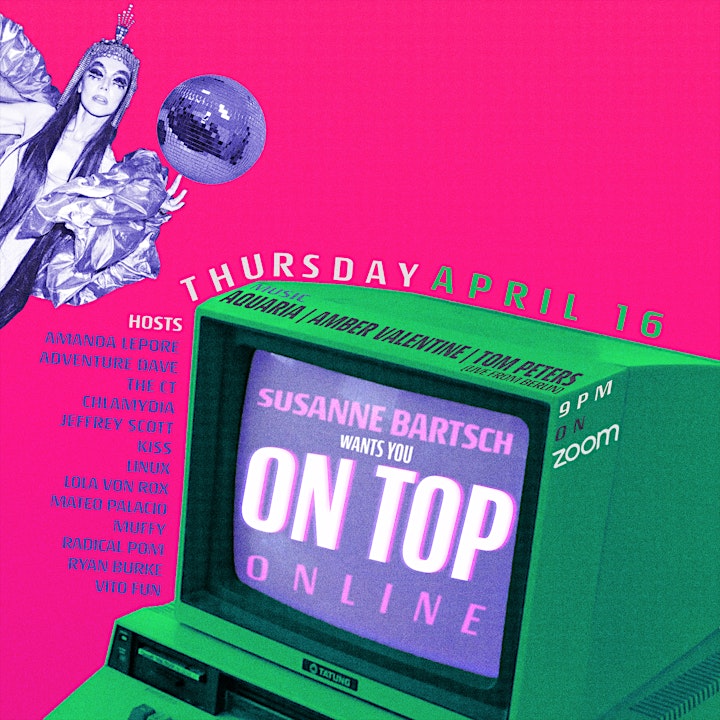 Date and Time
Location
Refund Policy