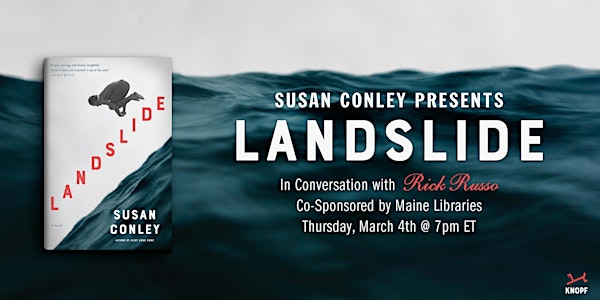 Susan Conley Presents LANDSLIDE in Conversation with Richard Russo
Libraries Night Out: Maine Edition with Susan Conley. Join Susan Conley as she discusses her new novel, LANDSLIDE, with Richard Russo!
About this event
**This is a virtual event that will be hosted on Zoom -you will need access to a computer or other device that is capable of accessing and sufficient Internet access. If you have not used Zoom before, you may consider referencing Getting Started with Zoom.**
This event would not be possible without the support of Penguin Random House Library Marketing and libraries across the state of Maine. A special thank you to all of our library co-sponsors: Maine Library Association, Portland Public Library, Patten Free Library, South Berwick Public Library, D.A. Hurd Library, Lithhgow Public Library, Witherle Memorial Library, Pittsfield Public Library, Readfield Community Library, Peabody Memorial Library, Thompson Free Library, Rockland Public Library, Windham Public Library, Auburn Public Library, Friend Memorial Public Library, Boothbay Harbor Memorial Library, Casco Public Library, Topsham Public Library, Hubbard Free Library, York Public Library, Rockland Public Library, Lewiston Public Library, Jesup Memorial Library, Curtis Memorial Library, Thomas Memorial Library, Bonney Memorial Library, and Falmouth Memorial Library.
You can order a copy of Landslide from PRINT: A Bookstore here.
ABOUT LANDSLIDE
After a fishing accident leaves her husband hospitalized across the border in Canada, Jill is left to look after her teenage boys—"the wolves"—alone. Nothing comes easy in their remote corner of Maine: money is tight; her son Sam is getting into more trouble by the day; her eldest, Charlie, is preoccupied with a new girlfriend; and Jill begins to suspect her marriage isn't as stable as she once believed. As one disaster gives way to the next, she begins to think that it's not enough to be a caring wife and mother anymore--not enough to show up when needed, to nudge her boys in the right direction, to believe everything will be okay. But how to protect this life she loves, this household, this family?
With remarkable poise and startling beauty, Landslide ushers us into a modern household where, for a family at odds, Instagram posts, sex-positivity talks, and old fishing tales mingle to become a kind of love language. It is a beautiful portrait of a family, as compelling as it is moving, and raises the question of how to remain devoted when the eye of the storm closes in.
"I loved Landslide. You are right there with them in a fishing village in Maine, feeling the wind, the sea, the danger. Smart, honest, and funny, this is a story you won't forget." —Judy Blume
"Susan Conley has knocked it out of the park with Landslide. It is a spectacular tale of hardship and healing told in Conley's gorgeous, luminous prose. Funny, moving, and deeply insightful, the novel takes such a fresh look at marriage, motherhood, and the wondrous inner lives of teenagers. A truly beautiful and unforgettable love story of a family on the brink." —Lily King, author of Writers & Lovers
"With spare yet evocative prose, Susan Conley beautifully renders here the tug and pull of what it means to be the only woman in a family of men, a woman who is trying to raise two boys on an island off the coast of Maine, while also tending to her injured fisherman husband, while also trying to be the film maker she has always hoped to be. Landslide is not only a wonderfully compelling portrait of a dying industry and the people who make their living from it, it is also a love letter to the enduring nature of family itself and the ties that bind us all." —Andre Dubus III, author of Gone So Long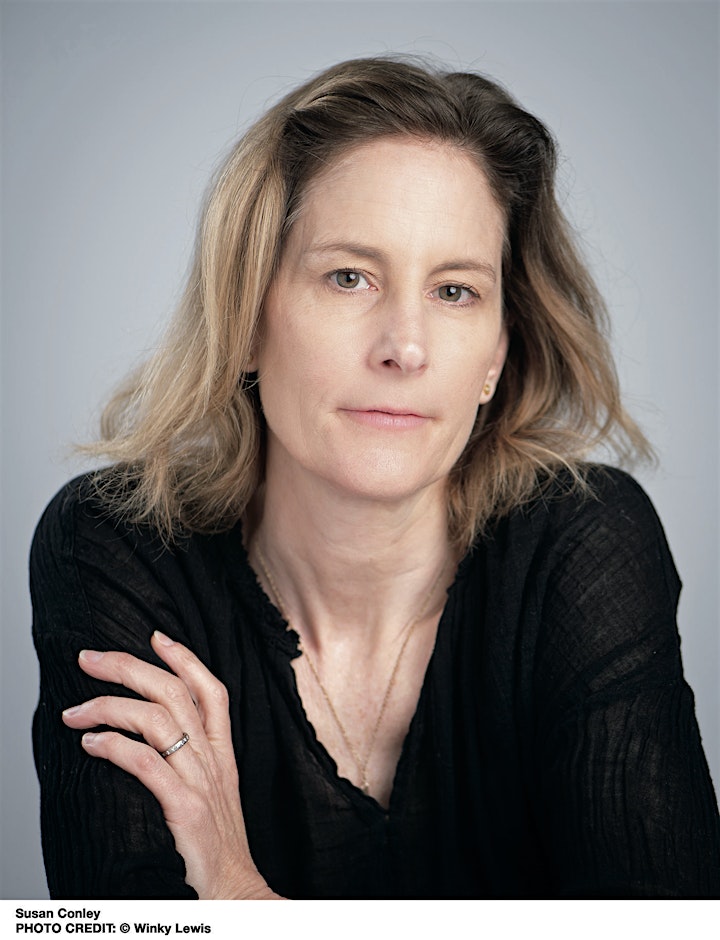 ABOUT SUSAN CONLEY
Susan is the author of five critically acclaimed books, including her recent novel Landslide (Knopf 2021). Her previous novel, Elsey Come Home, was a Most Anticipated/Best Book at Oprah Magazine, Marie Claire, Amazon, Pop Sugar, Huffington Post, Southern Living, Fodors, and others. Her writing has appeared in The New York Times Magazine, The Paris Review, The Virginia Quarterly Review, The Harvard Review, and others. She's been awarded multiple fellowships from the MacDowell Colony, as well as fellowships from the Bread Loaf Writers' Conference, The Maine Arts Commission, and the Massachusetts Arts Council. She's won the Maine Book Award and the Maine Award for Publishing Excellence and has been a featured Tedx Speaker, where her talk the "Power of Story," has been viewed widely. She's taught at many colleges and arts residencies including Emerson College, Colby College, The University of Massachusetts, as the Jack Kerouac Visiting Fellow, The Haystack School, The Spannochia Foundation, La Napoule Foundation, and The Beijing Hutong. She's on the faculty of the Stonecoast MFA Program and is co-founder of the Telling Room, a youth writing center in Portland, Maine.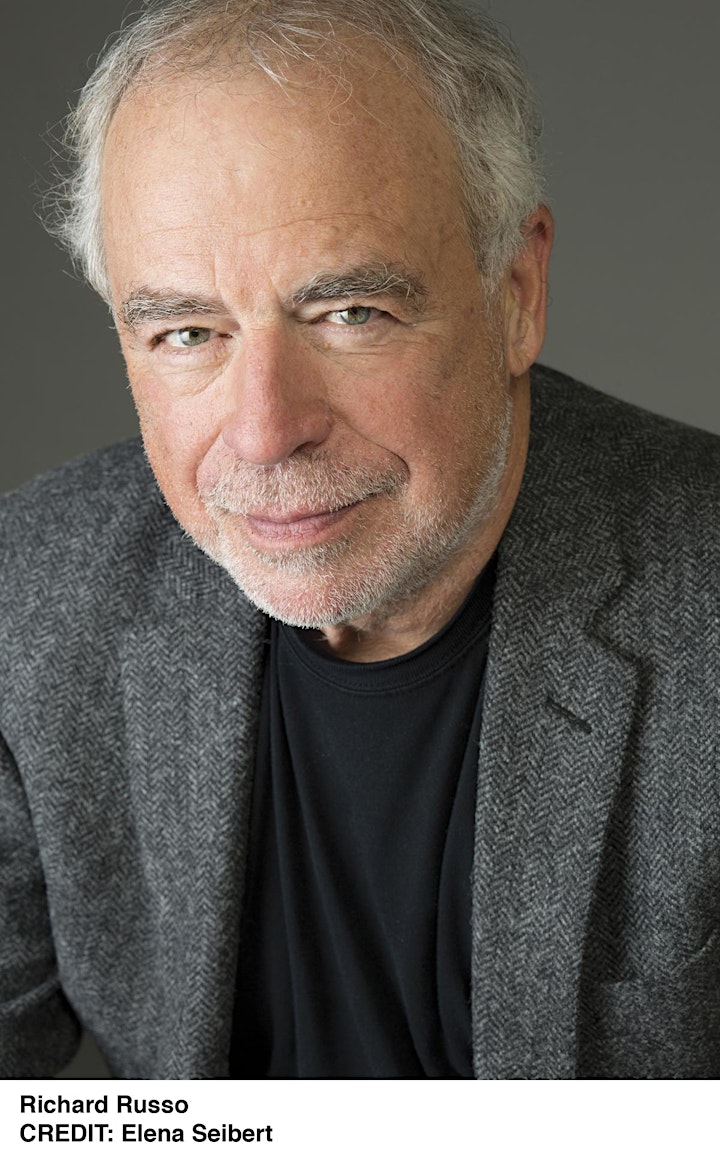 ABOUT RICHARD RUSSO
RICHARD RUSSO is the author of nine novels, most recently Chances Are...; two collections of stories; and the memoir Elsewhere. In 2002, he received the Pulitzer Prize for Empire Falls, which like Nobody's Fool was adapted to film, in a multiple-award-winning HBO miniseries; in 2016 he was given the Indie Champion Award by the American Booksellers Association; and in 2017 he received France's Grand Prix de Littérature Américaine. He lives in Portland, Maine.