Description
April 7th, 2017
**Advanced sales ended at 5:30pm. Tickets will be available at the door beginning at 6:30pm**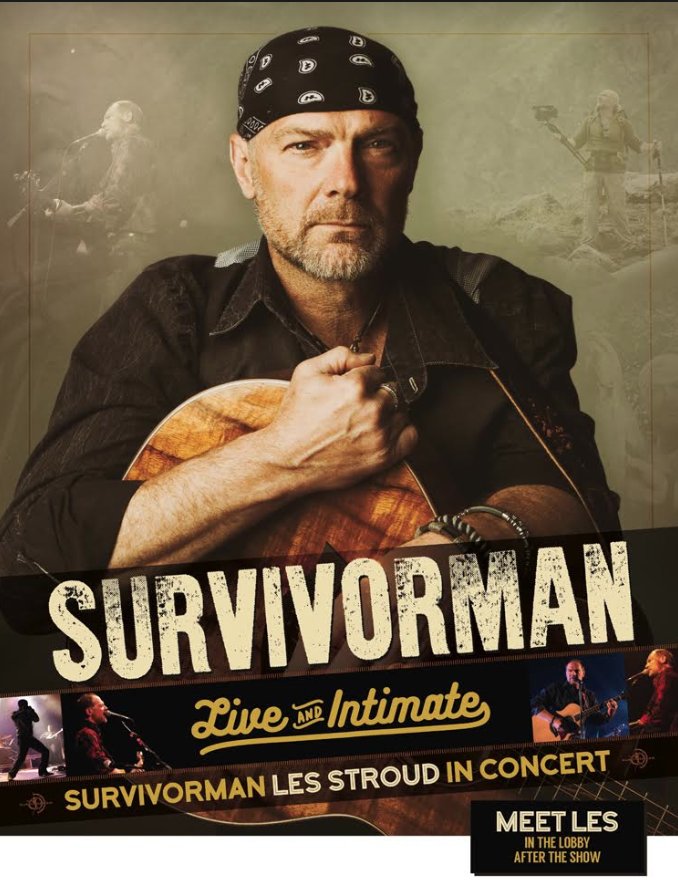 Les Stroud has made a powerful name in the world of documentary film making, indeed starting an entirely new genre of TV, yet he comes by his music honestly. Since the age of fourteen Stroud has been writing songs and studying musically. By age 23 his music was being shopped to the likes of Bruce Springsteen and he was a published songwriter with RCA/BMG music. Taking a break from music to concentrate on outdoor adventure throughout the mid 80's and early 90's Stroud eventually returned to his first love when he found an old guitar in a house in Yellowknife, NWT in Canada, while he was dog sitting 30 Inuit sled dogs (go figure!). He re-ignited his passion for music creation and picking up where he left off began writing again. He continued to write and record all through the inception and eventual success of filming the Survivorman TV series, which included writing the theme music for any documentary work he produced and releasing 4 CDs as well as performing hundreds of concerts (in between the Survivorman location shoots).
General seating: $13 ($18 at the door)
Preferred seating: $18 ($23 at the door)
Doors at 6:30pm, show at 7:30pm
Live music in BAR365 beginning at 5pm!
The Sapphire Room has a full food, bar and signature cocktail menu that is served before and during the show. This is an all ages event with FREE, convenient parking.
Please join us in the Riverside Grill before the show! Show your server your ticket to get 'buy one, get one free' entrees!

Many tables in the Sapphire Room are at bar height. Those requiring lower or ADA accessible seating will be most comfortable in the "Preferred- ADA Accessible option" section. Those seats are first come, first served and available for purchase by any guest.
100% refunds are available until 48 hours before the event. Refunds cannot be processed after the event occurs for any reason.

Boise's best kept secret! The Sapphire Room at The Riverside Hotel, 2900 Chinden Blvd. Garden City, Idaho 83714.
---
Need assistance? WE CAN HELP! Please call 208-331-4930 to order over the phone. Phone orders are available from 9am - 6pm, Monday - Friday. If you need help after-hours or on weekends, please email music@riversideboise.com (fastest) or leave a voicemail at 208-331-4930 and we'll get back to you as soon as we can. Thank you for supporting local live music!