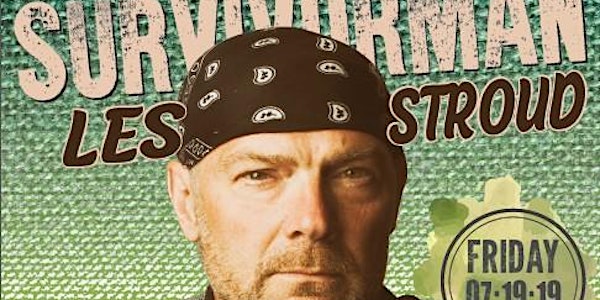 Survivorman LES STROUD in Concert @ Temagami July 19, 2019
SURVIVORMAN / LES STROUD Friday July 19th at 7:30 pm Sponsored by Ontario Arts Council and arranged by Temagami Artistic Collective.
When and where
Location
Bunny Miller Theatre 7 Lakeshore Drive Temagami, ON P0H 2H0 Canada
About this event
SURVIVORMAN / LES STROUD
Nominated for 21 Canadian Screen Awards - winning two for best documentary writer and one for best camera. He's the only television producer in history to write, film, produce, direct and star in an internationally broadcast TV series entirely alone. You know him ….as SURVIVORMAN! He's a celebrated keynote speaker ….award winning and best selling author ….environmental activist and outdoor adventurer. His mission from day one has been to celebrate nature and the earth through his film making and his music. On July 19th you are in for the concert of a lifetime….because Les Stroud is also an award winning musician and songwriter. He's been described by Jonny Lang and even Alice Cooper as "one of the best harmonica players in the world". His TV series Survivorman is shown in over 100 countries around the world and now his music is following the same path. If you are witnessing him perform for the very first time on July 19th - then prepare yourself for you are about to experience Survivorman himself; his music, his stories from around the world and his passion.