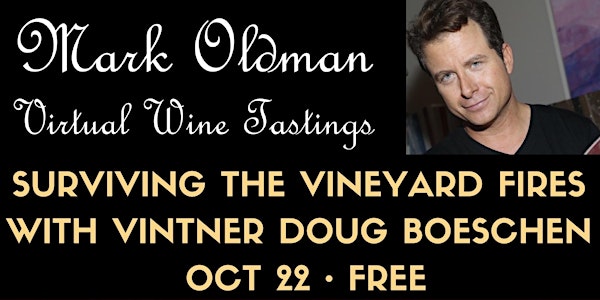 Surviving the Vineyard Fires w/Doug Boeschen - Oldman Virtual Wine Tastings
Join Mark Oldman for a tasting and interview with Doug Boeschen, whose Boeschen Vineyards narrowly escaped destruction in the vineyard fires
About this event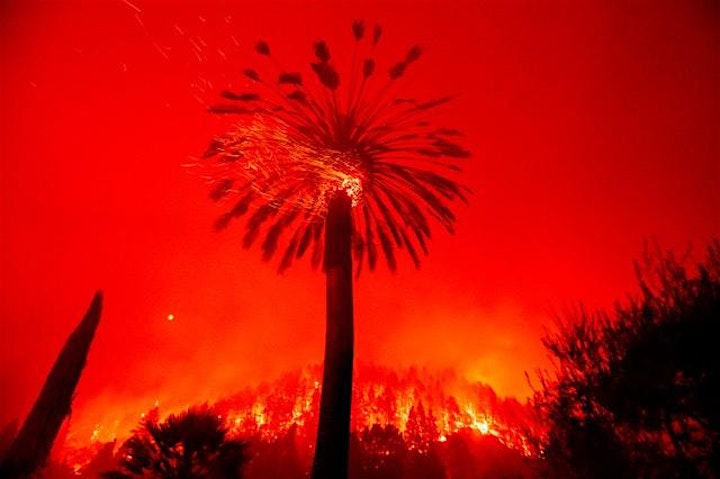 It was no less than a wine country miracle: as the recent Napa Valley fires surrounded Boeschen Vineyards, firefighters managed to save this 11-acre, family-owned vineyard and its 1890 home along the SIlverado Trail from complete destruction.
Join award-winning wine author and speaker Mark Oldman as he interviews Boeschen cofounder and vintner Doug Boeschen about this remarkable escape and how how he and his fellow winemakers are surviving in the aftermath of the terrible fires.
You can order in advance the exact wines that Mark and Doug will be tasting, although this is not a prerequisite. Otherwise, feel free to sip along with your own wine or just watch as we toast the fortitude and resilience of Northern California's wine community and its brave first responders. The wines are:
Wine 1: Boeschen Vineyards Estate Cabernet Sauvignon Napa Valley 2018
Wine 2: Boeschen Vineyards Carrera Estate Blend Napa Valley 2018
PLEASE NOTE: Mark's virtual tastings fill to capacity quickly, so if you are interested, please register ASAP. Registration is required to participate. After registering at Eventbrite, attendees will be emailed a Zoom access link to enter the webinar.
For the latest on Mark and his other virtual tastings, please visit his website.
- - - - - - - - - - - - - - - - - - - - - - - - -
FREQUENTLY ASKED QUESTIONS:
HOW DOES THE WEBINAR WORK?
At the scheduled webinar time and date, you will enter a virtual classroom via the Zoom link provided. Mark will present the topic in his trademark style that Bon Appétit calls "winespeak without the geek".
HOW LONG WILL IT LAST?
Each webinar is approximately an hour.
DO I NEED TO BUY THE WINES PRESENTED?
No, you are free to bring your own bottle or just watch. If you'd like to taste along with the exact wines that Mark will be presenting (though this is not a prerequisite), links have been provided for you to purchase the wines. You can also use Wine Searcher to find a merchant in your area or one who can ship to you.
WHAT TECHNOLOGY IS NEEDED FOR THE WEBINAR?
You will need an internet connection and the ability to stream audio and video to participate. At least a day before the webinar, your Zoom confirmation email will include a a link and details on how to join the Zoom webinar.
HOW DO I ENTER THE WEBINAR?
At least a day before the webinar, you will be sent a Zoom Webinar link to the email address you provided when purchasing your ticket, along with a meeting ID. By clicking on the link, you will automatically be prompted to open Zoom and join the class. Everyone is encouraged to join the class a few minutes early to ensure that you have a good connection with Zoom.
DO I NEED A ZOOM ACCOUNT TO PARTICIPATE?
No, you will not need to register for a Zoom account to join. Simply click to "Join the webinar" via in the link provided. You will be prompted to download and install the Zoom app. Once downloaded, open the Zoom program you will need to give Zoom access to your computer/phone microphone and camera. When you are ready to join the webinar select "Join with Video" and "Join Audio" buttons in the bottom left corner of the Zoom application.
WHAT IS THE REFUND POLICY?
All ticket sales are final. We do not offer refunds or exchanges.
IS THERE A WAITLIST IF THE EVENT IS SOLD OUT?
No, sadly Zoom does not provide this capability yet.
IS MARK ON SOCIAL MEDIA?
You bet. Follow him at @MarkOldman on Instagram and Twitter and at @MarkOldmanUSA on Facebook.
HOW TO I STAY ABREAST OF FUTURE MARK OLDMAN EVENTS?
Sign up for the Mark Oldman newsletter in the "Subscribe" box at the top of this page.
DISCLAIMER:
Please drink responsibly. This virtual tasting is open only to those 21-years-of-age and older. By registering for any Mark Oldman event, you agree to assume any risk that is associated with participating in the event and release Wetakem LLC and its representatives from any and all claims of injury, damage, and loss that may be as a result of participation.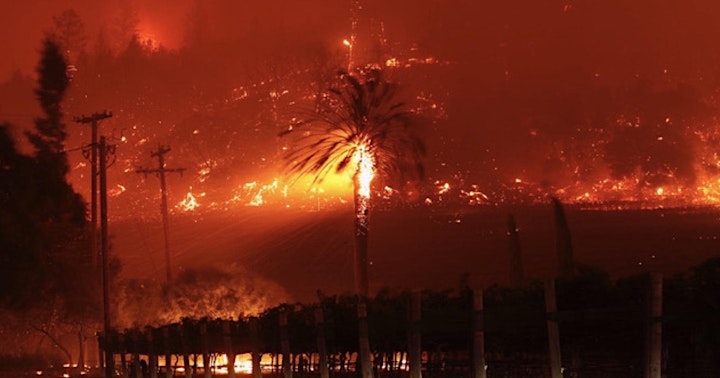 About Mark Oldman Virtual Wine Tastings:
Seen on ABC News and The Tonight Show with Jimmy Fallon
"A five-star experience" - Food & Wine magazine
"An oenophile wizard" - Washington Post
"Renowned in wine circles" - The Guardian