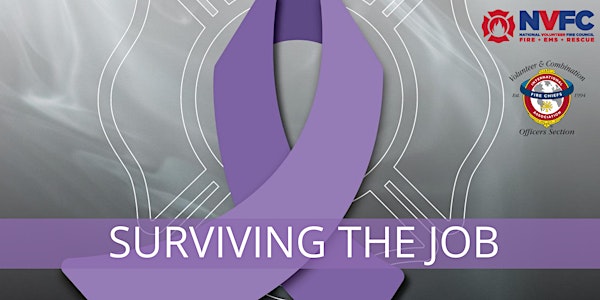 Surviving the Job
6 part webinar series on firefighter cancer risk reduction.
About this event
Join the VCOS and NVFC for a 6 part webinar series, where we will explore some of the most important information you need to know when it comes to firefighter cancer risk reduction. We will also discuss the importance of early detection and what to do when a firefighter has cancer.
February 18: Exposure Documentation
Explore and learn about apps available for documentation that you can implement in your department. We will also discuss the national cancer registry and the importance of reporting.
April 14: Annual Physicals
Join us to discuss the importance of annual physicals and options available to you and your department.
June 9: Decon Procedures
What do you do as a fire chief when your firefighter tells you they have cancer? How do you prevent this conversation from happening? Join us to explore decon procedure options for your department.
August 11: Cancer from a Survivor's Perspective
Hear about the impact of cancer from the perspective of three survivors, and learn about the importance of prevention and early detection.
October 13: POSTPONED to December
December 8: Leadership Sets the Example for Cancer Prevention
Join Chief Brian McQueen and Chief John Buckman for this webinar about reducing the risk of contracting occupational cancer. Firefighters are at huge risk. Common sense would tell all firefighters to wear the PPE provided while operating in the hot zone of a fire or chemical event. We all let our guard down from time to time, but it could be that one time that triggers occupational cancer to begin to grow.
Leadership needs to set the example and ensure that personnel are protecting themselves at all times. Leaders have to work hard to institutionalize a change in attitude and thinking about exposing our body to carcinogens. If leaders allow a normalization of deviance from the policy and procedures, you are setting the wrong example.
Many times, change start at the grass roots level. Firefighters should remain current on best practices and new opportunities to reduce risks.
Most all of us believe we are invincible. That is so far from the truth about cancer, and it requires a new normal.
One registration registers you for the whole series