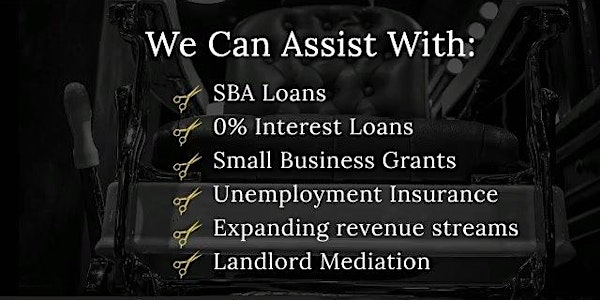 Surviving COVID 19 for Barbershops and Hair Salons
Sales Have Ended
Registrations are closed
A Cut of the Stimulus Thu, May 14, 2020 11:00 AM - 12:30 PM (PDT) Please join my meeting from your computer, tablet or smartphone. https://global.gotomeeting.com/join/492094725 You can also dial in using your phone. (For supported devices, tap a one-touch number below to join instantly.) United States: +1 (872) 240-3212 - One-touch: tel:+18722403212,,492094725# Access Code: 492-094-725 New to GoToMeeting? Get the app now and be ready when your first meeting starts: https://global.gotomeeting.com/install/492094725
Event Information
Location
Accelerate Uptown Where business comes to grow
6082 Atlantic Ave.
Long Beach, CA 90805
Sales Have Ended
Registrations are closed
A Cut of the Stimulus Thu, May 14, 2020 11:00 AM - 12:30 PM (PDT) Please join my meeting from your computer, tablet or smartphone. https://global.gotomeeting.com/join/492094725 You can also dial in using your phone. (For supported devices, tap a one-touch number below to join instantly.) United States: +1 (872) 240-3212 - One-touch: tel:+18722403212,,492094725# Access Code: 492-094-725 New to GoToMeeting? Get the app now and be ready when your first meeting starts: https://global.gotomeeting.com/install/492094725
Description
Virtual Interactive Workshop

Calling all Barbershops and Hair Salons!
Keep your lights on while your doors are closed!

Join us for an interactive workshop to talk about how to navigate your way through COVID 19.

We will discuss

Funding Options for your business
Expanding your Revenue Streams
Creating Merchandising for your brand

City of Long Beach small business resources

Learn how to have your voice heard with local political leaders to ensure your business gets a piece of relief packages.

Mediation with Landlords

We will also discuss putting on a fundraiser to benefit your barbershops and hair salons!

All attendees will receive one of the following for their business compliments of www.729agency.com

Business Card design
Social media Flyer Design
Banner Design

One person will win a custom website with full eCommerce solutions.
Date and time
Location
Accelerate Uptown Where business comes to grow
6082 Atlantic Ave.
Long Beach, CA 90805