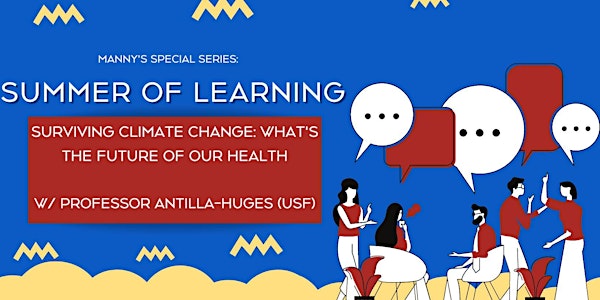 Surviving Climate Change: What's the Future of our Health?
Climate change will effect more than just our planet. How has our health been impacted by the climate crisis?
When and where
Location
Manny's 3092 16th Street San Francisco, CA 94103
About this event
The planet is on fire, the weather is changing, and the water is rising. What is happening with the climate?
Ties between the climate and our health are old as time, but modern data and methods help illuminate exactly how serious those effects can be. In this talk, Prof. Anttila-Hughes provides an overview of what we know about how the climate impacts child health, outlining the many ways agriculture, sanitation, disease, and other factors influenced by the climate threaten health around the world.
A particular concern is what these effects mean in a changing climate, and Prof. Anttila-Hughes marshals recent evidence on El-Niño to outline how the global community should respond as climate change worsens through the 2020s."
Are you a current student? Email the word "caffeine" and the title of this event to angelina@welcometomannys.com for a complementary ticket
Manny's never turns away anyone for lack of funds. To receive a complementary ticket just email the word "grapefruit" and the title of this event to darian@welcometomannys.com.
About Jesse Anttila-Hughes Ph.D.:
Professor Anttila-Hughes received his PhD in Sustainable Development from Columbia University. His research focuses on understanding the social impacts of environmental processes, particularly those influenced by environmental degradation and climate change.
Professor Anttila-Hughes' current research areas include: public health impacts of the climate; behavioral responses to new information about environmental risks; and determinants of the spread of environmental attitudes and ideas.