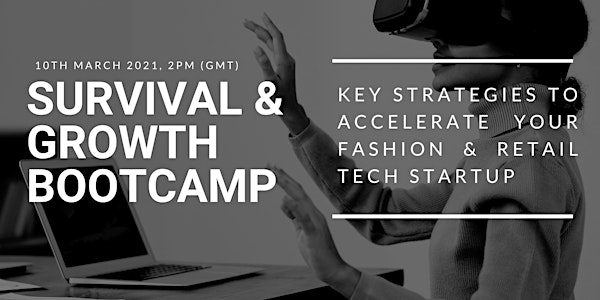 SURVIVAL & GROWTH BOOTCAMP - Accelerating Fashion & Retail Tech Startups
Join this half-day Bootcamp to accelerate your fashion & retail tech startup.
Refund Policy
Contact the organizer to request a refund.
Eventbrite's fee is nonrefundable.
About this event
#FASHHACK SURVIVAL & GROWTH BOOTCAMP is a half-day program of workshops aimed at fashion & retail tech startup founders to accelerate their companies.
The path to growth is not linear, and the inability to achieve this is the most common reason why startups fail. In this Bootcamp we'll apply lessons learned from elite ultra-distance athletes to the world of Sales. Whether you're building up a sales team to scale your revenue or you're a team of one, you will learn the key strategies to unstoppable growth success.
You will learn:
- What customer acquisition strategies are best for your business: paid media, organic, SEO, content, partnerships, etc.;
- Short-term hacks vs long-term strategy;
- How to battle high CACs (cost of customer acquisition);
- Best techniques for your sales team performance;
- About the legal implications of Brexit for Fashion and Retail Tech businesses incl: Protecting your IP; Export rules when selling goods; Data related implications; Immigration and hiring EU citizens.
Agenda:
2 pm (GMT) 'Brexit & Fashion Tech: All You Need To Know'
3 pm (GMT) 'Organic Vs. Paid: Best Customer Acquisition Strategies for Fashion Tech'
4 pm (GMT) 'Relentless: The 3 Keys to Unstoppable Sales Performance'
Mentors:
Kolvin Stone leads Fox Williams' technology group and has advised some of the world's leading technology driven businesses. He has been ranked by Legal 500 for data and technology and is known for being "excellent" and "extremely responsive and client focused, succeeding at meeting the needs of both in-house counsel and tech-savvy business clients." Kolvin has significant experience advising on the legal issues related to the internalisation of technology and internet enabled services including e-commerce, social media, big data, digital marketing and advertising.
Chris Neenan is the founder of Relentless Growth, an organisation that works with founders and revenue leaders to build repeatable, scalable sales engines. Prior to this Chris spent nearly twenty years in enterprise sales across a wide range of responsibilities and regions, most recently with Bazaarvoice where he was responsible for bringing revenue from $30M to over $300M.
Romans Ivanovs is a founder of Riu Media, a growth agency that helps eCommerce and B2C brands scale with paid social customer acquisition strategies. He's also recently co-founded a direct-to-consumer brand in a premium accessory niche www.harpandhill.com.