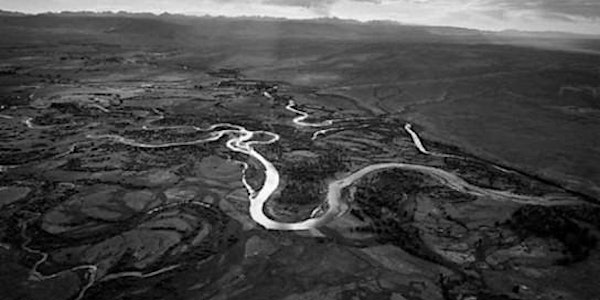 Surveying the Anthropic Sublime: A Conversation Between Photographer Michae...
Event Information
Location
Linda Hall Library
5109 Cherry Street
Kansas City, MO 64110
Description
The speakers
Celebrated landscape photographer and bookmaker Michael Light focuses on the environment and how contemporary American culture relates to it. For the last sixteen years, Light has aerially photographed over settled and unsettled areas of American space, pursuing themes of mapping, vertigo, human impact on the land, and various aspects of geologic time and the sublime. A private pilot and Guggenheim Photography Fellow, he is currently working on an extended aerial survey of the arid Western states. The fourth volume in a multi-volume series of this work published by Radius Books, Lake Lahontan/Lake Bonneville, was released this August.
Light is also known for his archival books and exhibitions. His 1999 book, FULL MOON, used lunar geological survey imagery made by the Apollo astronauts to show the moon both as a sublime desert and an embattled point of first human contact, while his 2003 book, 100 SUNS, focused on the politics and landscape meanings of military photographs of U.S. atmospheric nuclear detonations from 1945 to 1962.
Light has exhibited globally, and his work has been collected by the San Francisco Museum of Modern Art, The Getty Research Institute, The Los Angeles County Museum of Art, The New York Public Library, the Brooklyn Museum, the Victoria & Albert Museum in London, and the Hasselblad Center in Sweden, among others. Twenty-five separate editions of his seven books have been published worldwide.
Jane Aspinwall, Associate Curator of Photography at the Nelson-Atkins Museum of Art, has worked with the Hallmark Photographic Collection since 1999 and was the first member of the Photography department at the Nelson-Atkins after the Hallmark collection was gifted in 2005. Previous to this appointment, she served as the curatorial assistant of Photography and worked in the American Art department of the Nelson-Atkins. Aspinwall received a master's degree in 2001 in art history from the University of Missouri-Kansas City. She also holds a master's degree in business administration with an emphasis in arts management received in 1992 from the University of Missouri-Columbia.
Aspinwall was contributor to the book and a co-organizer of the exhibition Developing Greatness: Origins of American Photography, 1839-1885, one of the inaugural exhibitions held in the museum's Bloch Building in 2007. She was also co-author and exhibition co-curator of Timothy O'Sullivan: The King Survey Photographs. She has curated numerous exhibitions at the Nelson-Atkins, including: In the Public Eye: Photography and Fame; Restoration: Shana and Robert ParkeHarrison; Hide & Seek: Picturing Childhood (co-curated); Exploring Egypt: 19th Century Expeditionary Photography; Heavens: Photographs of the Sky & Cosmos; and Timothy O'Sullivan: The King Survey Photographs (co-curated).
Date and time
Location
Linda Hall Library
5109 Cherry Street
Kansas City, MO 64110