Description
Welcome to the Surry Arts Council Dance Program! We are so excited to have you joining us for our monthly classes. Our recital will be Sunday, May 19, 2019 at 2:00pm.
2018-2019 Season
1 class per week: $45/month
2 classes per week: $60/month
3 classes per week: $70/month
4 classes per week: $80/month
5 classes per week: $90/month
6 classes per week: $100/month
7 classes per week: $110/month
8 classes per week: $120/month
unlimited classes per week: $130/month
Tuition is the same each month regardless of the number of weeks in the month or student absences.
Family tuition is based on the number of classes per week. If you pay for 8 classes per week you can split the classes between siblings (each child could take 4 classes). Dancers must be siblings living in the same household for a family discount. Unlimted class discount is limited to 2 siblings.
A $100 recital, registration, and costume fee is required for EACH student, regardless of family tuition rates. This fee includes the costume, all needed accessories, and use of any props for the routine. The $100 fee is due prior to December 21, 2018.
Tuition must be paid by the first class of each month.
In the event of inclement weather, refer to our facebook page, or instagram for closing updates. Make-up classes will be at the program's convenience. We follow the Mount Airy City Schools inclement weather schedule.
All fees are non-refundable. If you choose not to continue classes you must notify the Surry Arts Council in writing. You will be responsible for tuition for the current month as the space is being held for your student.
You may submit class requests and times to shelby@surryarts.org. All requests will be evaluated based on interest.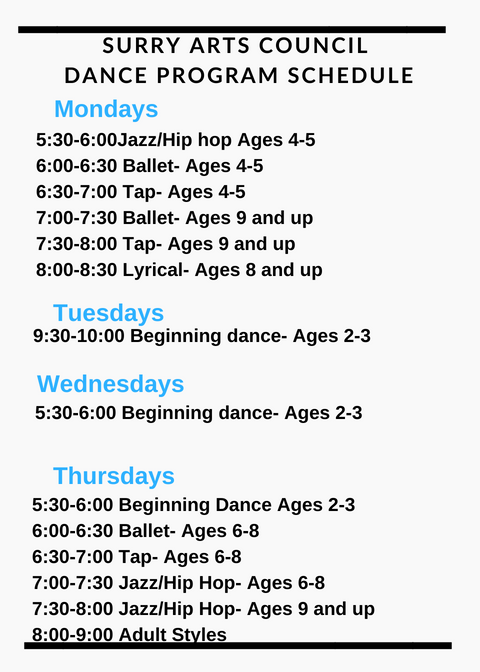 Follow our Instagram page @sacdanceprogram and like our Facebook page for up-to-date information on the program! www.facebook.com/surryartscouncildanceprogram/