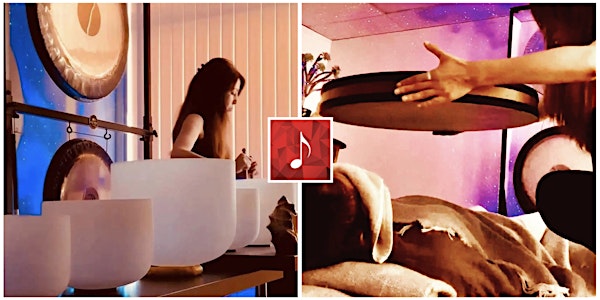 SURROUND SOUND-BATH [MEDIT. ROOM]
Acoustic Sound Healing Journey Organized by The SoundBath STUDIO. Sound Therapy+Guided Meditation. Multiple Instruments Surround Setting.
When and where
Location
4020 Palos Verdes Dr. N Suite 201 4020 Palos Verdes Drive North, Suite 201 Rolling Hills Estates, CA 90274
About this event
Join us on TUESDAY NIGHT at our STUDIO for an Immersive Sound-Therapy Journey with the deep sounds of Symphonic GONGS, Quartz Crystal Bowreleasingls, Tibetan Bowls, Drums, and a beautiful array of instruments for a Music attuned to the structure of Primal Sounds.
SOUNDBATH MEDITATIONS are Higher Vibrations, between Ancient and New Sounds, that harmonize the body and the mind.
This is a full Sound-Therapy Session & Guided Meditation.
The event is hosted in our Palos Verdes INDOOR Sound-Room, a Space uniquely designed for the experience of Sound Therapy and Breath-Works.
THE NUMBER OF ATTENDEES IS LIMITED TO 8 (eight) OR LESS TO GUARANTEE A HIGHER QUALITY AND INTENSITY OF YOUR EXPERIENCE.
>> MINIMUM AGE ATTENDANCE REQUIREMENTS FOR THESE SESSIONS: 16+ y.o. <<
Please see the Refund Policy below**
IMPORTANT: RESERVATIONS ONLY/ No WALK-INS.
[THESE EVENTS FILL UP QUICKLY]
Duration: 8:00 PM to 10:00 PM
Event Fee: $45 -Parking: Included, Inside the Property.
**REFUND POLICY:
- NO-SHOW or LATE ARRIVAL (after we closed doors) will not be refunded.
- TICKETS cannot be transferred to a different date.
- Full Refunds Up to 3 Days Before the Event Starts. SAME-DAY or SHORT NOTICE (Less-than-3-Days) CANCELLATIONS will not be refunded.
Thank You very much for your understanding.
Doors open 30 minutes before the Event's scheduled time and close 10 minutes after. Plan to arrive 15 minutes before the beginning of your event to have time to organize your space. Thank You.
TO SAVE YOUR SPACE:
>> Sign up here on EVENTBRITE
Direct Message us at 949-287-3445
email: INFO@TheSoundBathStudio.com
Location: 4020 Palos Verdes Dr. N, Suite 201 (Upstairs)
Rolling Hills Estates, CA 90274
Organized by: TheSOUNDBath STUDIO
WHAT TO BRING: Our Studio offers All the Lying-Down Essentials for a comfortable SoundBath Experience, but you can make it more cozy and cushy by taking your favorite yoga mat or pad, blanket, pillow, and an eye mask.
Sound Therapy is one of the most effective ways to connect with our inner self, restore depleted energies, and release tension and anxiety.
It helps the process of recovering from emotional traumas, bypasses our critical mind, and connects with our most intimate self.
For more information, you can visit our page TheSoundBathStudio.com