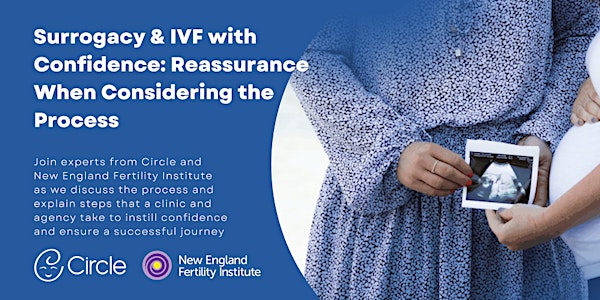 Surrogacy & IVF with Confidence: Reassurance When Considering the Process
Join experts as we discuss the process and explain steps that a clinic and agency take to instill confidence and ensure a successful journey
About this event
Surrogacy and IVF with Confidence: Reassurance When Considering the Process
Growing your family with the help of IVF and surrogacy is a big decision often accompanied with the feelings of anxiety. However, with some of the advances in fertility, PLUS the way New England Fertility Institute and Circle Surrogacy & Egg Donation operate, we're here to help reassure and alleviate that feeling as you consider this pathway to parenthood.
Join New England Fertility Institute and Circle Surrogacy & Egg Donation as we walk you through the surrogacy process and explain specific steps that a clinic and agency take to instill confidence and ensure a successful journey.
Discussion will include:
The in-depth medical and personal background screening process for surrogates
The rigorous process of qualifying egg donors
Genetic testing
Considerations and benefits of natural cycle surrogacy
Questions to ask when looking for an agency and a clinic
A Q&A session will also be available at the end of the webinar.
Our panelists include:
Gad Lavy, M.D., F.A.C.O.G, Medical Director and Founder of New England Fertility (NEF). Dr. Lavy received his training at Hadassah Medical School at Hebrew University in Israel and completed his residency at Yale University School of Medicine in New Haven, Connecticut, where he served on the medical faculty of the Department of Obstetrics and Gynecology.
Jen Rachman, LCSW, Outreach Associate, Circle Surrogacy & Egg Donation. Jen is a Licensed Clinical Social Worker, cancer survivor, and mother through gestational surrogacy. She earned a Master of Social Work degree from New York University and has over a decade of clinical experience working with children, adolescents and their families.
Amanda Harry, Senior Manager of Program Coordination, Circle Surrogacy & Egg Donation. Amanda came to Circle in 2015 after 9 years of conducting background investigations for the United States government. Amanda also worked as a case manager for Big Brothers Big Sisters in Pennsylvania and Virginia and eventually as the Vice President of Program Services for the office in Virginia. Having two children of her own, Amanda is very familiar with the ups and downs of pregnancy and childbirth. Amanda is thrilled to be working at Circle and considers herself blessed to be helping our intended parents grow their families.
To register, fill out the form below and you will be sent instructions from GoToWebinar on how to join the session!